Argentina signs with Belize a South/South cooperation agreement in several fields
Wednesday, October 23rd 2013 - 01:33 UTC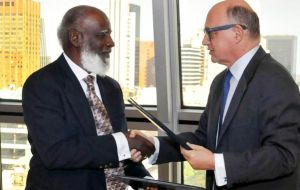 As part of Argentina's foreign policy to increase links and cooperation with the Caribbean, Foreign minister Hector Timerman and his peer from Belize, Wilfred Elrington signed a South to South cooperation agreement which covers several fields and opens trade opportunities.
According to an official release from the Palacio San Martin, Minister Elrington two-day visit to Buenos Aires on an invitation from Timerman included talks on political issues, trade, education and cultural exchanges and cooperation in health care and agriculture.
In education and culture Elrington met with experts on technical formation, juvenile orchestras and it was agreed to send Argentine staff to help Belize teachers and help with teaching techniques.
In health care a cooperation mission will be sent to Belize in the first quarter of next year, and standing consultation on community organization and communications was agreed.
At the ministry of Industry, experts in promoting small and medium sized businesses and regional development exchanged ideas with Elrington who received a catalogue of the Argentine government different forms of support for industry.
At the Ministry of Tourism it was agreed to include Belize in a coming tour of nations to visit by a ministerial delegation in December, and similarly the Ministry of Agriculture will send a mission of experts to help young Belizeans in farm activities.
All these initiatives were crystallized in the South-South cooperation agreement which was subscribed on Tuesday by Timerman and Elrington.