Putin displaces Obama from Forbes' list of the most powerful people
Thursday, October 31st 2013 - 17:58 UTC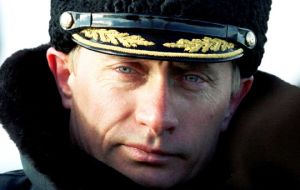 President Barack Obama has been demoted to second place from Forbes' Most Powerful People list which has named Russia's President Vladimir Putin as the leader of the pack.
"Putin has solidified his control over Russia while Obama's lame duck period has seemingly set in earlier than usual for a two-term president — latest example: the government shutdown mess," Forbes explained.
Forbes added that "anyone watching the chess match over Syria has a clear idea of the shift in the power towards Putin on the global stage." It also pointed to Putin exercising his international clout in offering former NSA contractor and whistleblower Edward Snowden asylum.
However the idea that Putin is more powerful than Obama and a number of other world leaders can be interpreted as controversial but the US president has been severely battered both at home and internationally, and Forbers is no admirer of the current occupant of the White House.
Some of the factors that contributed to Putin's power? A "nuclear-tipped army, a permanent seat on the UN Security Council and some of the world's largest oil and gas reserves."
Putin may have had an advantage thanks to Forbes methodology, which includes 1) how many people the candidate has power over (Russia's population was 143.5 million as of 2012), and 2) the financial resources within the candidate's control (for world leaders, the list uses GDP... and Russia's was more than 2 trillion in 2012).
Forbes also takes into account if the candidate is 3) powerful in multiple spheres and 4) actively uses his power.
Critics may argue those attributes don't make up for Russia's relative weakness in international affairs or detract from the country's looming economic and social problems.
Putin takes the top spot after a year in which his country passed a controversial anti-gay law, negotiated for a deal to rid Syria of its chemical weapons, and made preparations to host the 2014 Winter Olympics in Sochi.
The top ten from Forbes' list: 1. Russian President Vladimir Putin; 2. US President Barack Obama; 3. Communist Party of China Xi Jinping; 4. Pope Francis; 5. German Chancellor Angela Merkel; 6. Bill Gates; 7. US Federal Reserve Chairman Ben S. Bernanke; 8. Saudi Arabia King Abdullah bin Abdul Aziz; 9. European Central Bank President Mario Draghi and 10 Wal-Mart CEO Michael Duke.