IDB financing for private sector 90 MW wind farms in Uruguay
Monday, November 4th 2013 - 00:30 UTC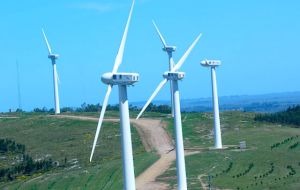 The Inter-American Development Bank (IDB) approved a private sector loan for up to 132.6 million to partially finance the construction of the Carapé I and II wind farms in Uruguay.
The IDB financing includes 88.4 million from the Bank's ordinary capital and 44.2 million from the China Co-financing Fund for Latin America and the Caribbean, which was established by the Chinese government to co-finance IDB projects in the region.
The project's objectives are to contribute to the diversification of Uruguay's energy matrix through the generation of approximately 364,700 MWh of renewable energy annually, which represents the average electricity consumption of more than 158,000 people. In addition, the project will help to mitigate the vulnerability of the country's electricity sector to variations in hydrologic conditions and reduce CO2 emissions by an average of 259,000 tons annually through the substitution of fossil fuels with renewable energy.
"The long-term financing approved by the IDB is key to the development of Carapé I and II, which will contribute substantially to the success of the Uruguay project," said Gian Franco Carassale, IDB project team leader.
"The funding provided to Carapé I and II will support the addition of 90 MW of wind energy in the country and emphasizes the IDB's strong commitment to supporting Uruguay's efforts to develop non-traditional renewable energy," said Jean-Marc Aboussouan, chief of the Infrastructure Division of the Bank's Structured and Corporate Finance Department.
The project will be built in the Sierra de Carapé, north of the city of San Carlos in the department of Maldonado. It will consist of a 90 MW wind farm divided into two subprojects, Carapé I and Carapé II, of 50 MW and 40 MW, respectively. Works will include the installation of 31 Vestas wind turbines, construction of a 150-kV transmission line of 39.6 km, substations, civil works, access roads, and other infrastructure needed to transmit power to the grid operated by the state enterprise UTE.
The project will be developed by Vengano S.A. and Fingano S.A., special purpose companies owned by Corporación America S.A. and Contreras Hermano S.A. of Argentina, and Constructora San José S.A. of Spain.
Some 60% of Uruguay's energy matrix is produced by hydroelectric power, 38% by thermal generation based on fossil fuels, and the remainder by biomass and wind energy.