Brazil says Argentina will again open the doors to bilateral trade next week
Saturday, December 7th 2013 - 06:34 UTC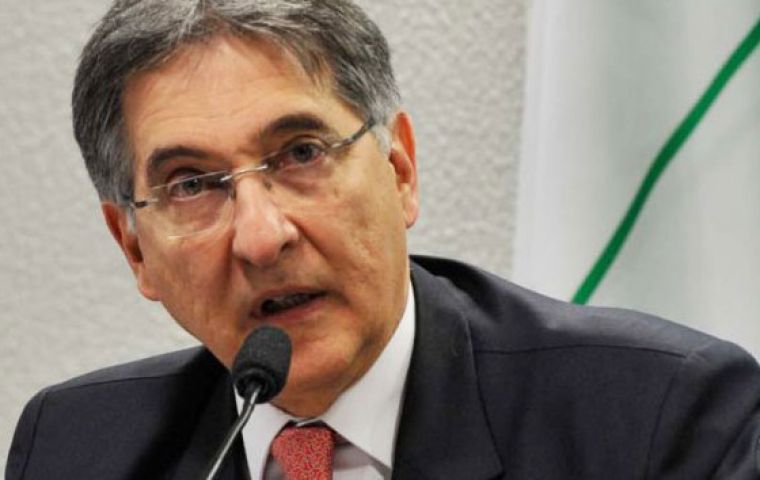 Argentina will from next week open the doors for Brazilian imports held up on the border between the two nations, including footwear and motor vehicles, according to Brazilian Minister of Development, Industry and Foreign Trade Fernando Pimentel.
The minister said to reporters in Buenos Aires that the measures were a sign of Argentina's easing import restrictions for its neighbor, the nation's most important trade partner.
"All of the goods currently held up will begin to be released from the start of the coming week," Pimentel explained following a meeting with Cabinet Chief Jorge Capitanich and Economy Minister Axel Kicillof.
"The most important thing is that the biggest factor causing discomfort to our exporters has been resolved, they will be freed."
Argentina and Brazil have a bilateral trade market worth more than 30bn dollars a year, although the relationship has not always been smooth.
Argentina, virtually excluded from voluntary credit markets since 2002's default, operates a complex system of sworn statements on imports to uphold a trade surplus that is economically essential to nourish its shortage of foreign currency.
"I am very optimistic. It has been shown that there is a strong desire from the Argentine economic authorities to solve problems which really are small [compared to the value of the overall trade," Pimentel remarked.
The Brazilian minister continued by commenting on the assumption of Capitanich and Kicillof into their new roles: "There has been a change of team here and we believe that the change was positive."
"There was never any break [in relations], but I would say that dialogue will progress from here on with much greater vigor. The outlook is good," he concluded.
Pimentel was part of a high level Brazilian delegation that included besides Pimentel, Marco Aurelio García the foreign policy advisor of President Dilma Rousseff and her predecessor Lula da Silva.
Marco Aurelio in a much low key attitude visited Buenos Aires to meet the new Argentine government team and discuss pending Mercosur issues, such as the talks with the European Union and the Paraguay case which continues to refuse the incorporation of Venezuela as full member of the group.