Argentine central bank reserves fall below the 30bn dollars threshold
Thursday, January 16th 2014 - 09:34 UTC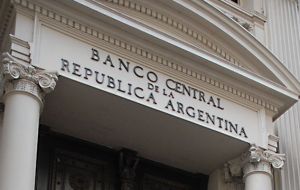 Argentine central bank international reserves continued to erode and on Wednesday pierced through the 30bn floor threshold reaching 29.858bn dollars, the lowest level since November 2006. On Tuesday reserves stood at 30.019bn.
Since the beginning of 2014 the Central bank has intervened daily trying to sustain the exchange rate with an "administered devaluation", which so far has proven non effective. In the twelve months of last year the Argentine central bank lost 30% of its reserves.
"The central bank intervened with sales in exchange houses and at the end of trading recovered some of the lost ground because of sales from the private sector, most probably from the mining sector, which helped with the 'miracle' of impeding further losses of reserves", said money exchange traders in Buenos Aires.
Argentina is short of hard currency because the country remains absent from money markets as a consequence of pending litigation with hedge funds, plus the fact that the country's unorthodox policies do not convince investors.
Even short in dollars Argentina must pay for imports, maturing debt and the energy bill, because it is now several years since the country from an exporter of oil and gas has become a net importer. Frozen extraction prices during almost a decade scared any possible exploration or drilling for new resources.
It was only with the seizure of YPF from Repsol that the rules of the game have changed and are interesting for the development of oil and gas shale deposits, but this takes time.