HMS Portland with a female commander leaves for Atlantic patrol
Friday, January 17th 2014 - 06:44 UTC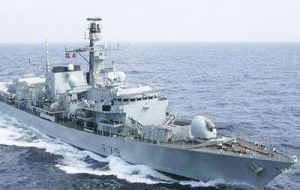 Type 23 frigate HMS Portland left on Monday from Davenport naval base for the Atlantic to provide on-going protection and reassurance to British interests in the region, which includes the Falklands and other South Atlantic islands.
She sails under Commander Sarah West, the first female to reach the Commanding Officer position of a major Royal Navy warship.
"I have been in the Navy for 18 years and taking this ship on deployment is the pinnacle of my career. I have a great ship's company and they are also looking forward to the deployment ahead'' said Commander West.
The deployment marks the culmination of a busy period regenerating HMS Portland from upkeep to operational status, pointed out Commander West.
She also thanked families and friends for their support to her and her crew in taking the ship out of maintenance and through intensive ship's trials and training with Flag Officer Sea Training staff.
According to the official release, HMS Portland will undertake maritime security operations, including counter-narcotics and anti-piracy patrols, providing opportunities to work with other navies to strengthen ties and demonstrate the Royal Navy's commitment to the region.
HMS Portland emerged from a 12-month upkeep period in Rosyth, Scotland, a year ago. After an extensive period of sea trials in which the ship demonstrated the capability of her advanced weapon and sensor systems, she undertook intensive sea training under Plymouth-based Flag Officer Sea Training (FOST) last summer.
HMS Portland then temporarily assumed the role of the high readiness fleet escort and escorted the Russian Udaloy class destroyer, Vice-Admiral Kulakov around UK waters.
Following a visit to Belfast, the ship took part in a multi-national maritime exercise late last year and completed a further period of sea training at FOST.
The ship has now completed a comprehensive maintenance period to ensure she is ready to meet the demands of her deployment.
HMS Portland is one of 13 Type 23, Duke Class frigates serving in the Royal Navy. The Type 23 frigate is the mainstay of the surface fleet in the modern Royal Navy.
Originally, the frigate was a fast, maneuverable craft, required to scout ahead of the main fleet. It was, invariably, lightly armed. Today's modern frigate is capable of this and much more. Importantly, the Type 23 is, in comparison with similar sized ships serving in other navies, heavily armed.