Mujica says Mercosur is 'seriously impaired" and admits resignation in relations with Argentina
Tuesday, January 21st 2014 - 15:24 UTC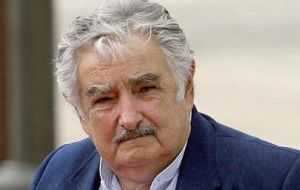 Uruguayan president Jose Mujica said that Mercosur is "seriously impaired" but it also has its strong points, and the fact Paraguay resumes full membership is very positive. Mujica was interviewed by a government financed newspaper, La República and again referred to the postponed Mercosur summit and the deteriorated relations with Argentina.
"We are seriously impaired as a group and we will have to review what works and what does not work, and point out the problems with greater emphasis", said the Uruguayan leader who also admitted that the postponement of the Mercosur summit for a third time, sometime in mid February was not in the best interests of the block. The postponement is allegedly because of "presidential agendas".
"Even when in some issues, Mercosur delays are affecting regional integration, in others it is enormously fortified. For example Venezuela and Brazil are Uruguay's main clients for dairy produce, which is significant and must be underlined", said Mujica.
Regarding the full resumption of Paraguay to Mercosur membership, from which it was suspended in mid 2012 because of the removal of then president Fernando Lugo, Mujica said he was hopeful that "the Mercosur family now stands where it should stand".
"On our own, out of place in today's world, we'll be heading nowhere. We don't have to gauge and realize or even brag about our own strength, but rather realize how strong others are", insisted Mujica who then argued that "only when you become aware of how powerful the developed world is, do you understand how important it is to get together with the neighbors: that is part of the deep political problem that currently faces Latin America".
Finally regarding the ongoing problems Uruguay has in its complex relation with neighboring Argentina, Mujica was philosophical and showed resignation: "At some point we will have to reach an understanding, and if we don't: governments change but the peoples remain".
But he underlined "we will never the separated from the Argentine people, not even God can do that".
The latest scuffles with the government of President Cristina Fernandez have meant a loss of at least 20% of transshipment activity in the port of Montevideo and a drop of 10% in Argentine tourists arriving in Uruguay, besides and estimated 50 million dollars of Uruguayan exports frozen by the Argentine customs.