Malvinas claim support from Celac, underlined by Argentine president
Thursday, January 30th 2014 - 06:01 UTC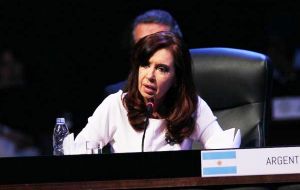 Argentine president Cristina Fernandez celebrated the advances in integration achieved by Latin America and the Caribbean, and thanked country members for their support in Argentina's claim over the Malvinas and other South Atlantic Islands sovereignty.
Underlining that the Falklands/Malvinas are "the last vestige of colonialism in the world', the Argentine president again called on the UK to comply with UN resolutions and resume sovereignty negotiations.
Addressing the II summit of the Community of Latin American and Caribbean States, which took place Tuesday and Wednesday in Havana, Cuba, Cristina Fernandez also demanded the de-militarization of the South Atlantic and called for Latin America to effectively become a "zone of peace".
In the 24-minute message, the Argentine president called on other nations of the region to think and act as one economic entity: "we must see ourselves as an economic bloc, because time is running out and the need is growing".
"Integration cannot be just one issue as part of an agenda, but a state policy in each country", she emphasized.
Likewise Cristina Fernandez told the Celac summit that Argentina was "the country in the world which had most de-indebted" and without going to money markets, because as a consequence of the 2001/02 default Argentina had no access to international financing, or at unreasonably high rates.
"In 2003, our debt in foreign currency was equal 150% of the GDP, while now, it's only eight percent".
Cristina Fernandez also mentioned the latest program launched by her government, Progress, basically a plan of social inclusion for young people who do not study or have jobs, "because when they try and lecture me on the future and don't look after all those youngster without jobs, it's just plain cynicism".
The presidential delegation to the summit also included Foreign minister Hector Timerman; Industry minister Debora Giorgi; Entre Rios governor Sergio Urribarri; president of the Lower House Alberto Dominguez; sister in law Alicia Kirchner and other officials.
Cristina fernández said that one of the goals of the region is to add value to primary goods' exports but at the same time admitted that "if only ten years ago anyone would have said that all the region was to gather in Cuba in an unprecedented integration process, he would have been considered overwhelmed by utopia".
Likewise she asked country members to work in the construction of an agenda in which all its members are in equal conditions when it comes to decision making, such is the case with Unasur".
Finally she called on all members so that "Celac does not become another multinational organization with pompous statements that never makes things happen" and described an 'non-existent' the multilateralism of many global organizations because "yes, there are many members at the table, but just one or two decide".