January inflation climbed 4.61% during January according to Congress index
Thursday, February 13th 2014 - 03:06 UTC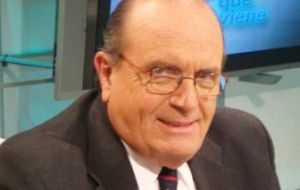 Argentina's inflation in January climbed to 4.61% and 30.78% in the last twelve months according to the average from private consultants estimates which are released every month by opposition lawmakers in what is known as the 'Congressional index'.
The private consultants estimates is three times higher than the official inflation rate from the government's stats office, Indec for which consumer prices during the twelve months of 2013 increased only 10.9%.
On Thursday the government of President Cristina Fernandez is scheduled to release the new index identified as the National Urban Consumer Prices Index, IPCNU, which is expected to be closer to the Congressional index.
The new IPCNU index is the result of an agreement with the IMF which questioned not only Indec's inflation but also Argentina's GDP. Argentina was threatened with sanctions and expulsion from the IMF if it did not comply with more reliable indexes and stats measurements.
The congressional index as usual was released at a press conference with attending members from the opposition and belonging to the Freedom of Expression Commission.
One of the lawmakers Carlos Brown said that it is 'unsustainable that the government refuses to admit the existence of inflation and believes that with administered prices it can solve the issue".
He added that "inflation is deeply entrenched in Argentina, most painfully for those on fixed incomes or whom less have. There is no concrete economic plan, just spasmodic impulses that only generate economic uncertainty with total absence of reliability".
Last week Argentina's organized labor CGT, under union leader Hugo Moyano, at one time an ally of the Argentine government but now clearly in the opposition, said that according to their stats office, January inflation had reached 4.26%.
The unions keep track of prices mainly in supermarkets and shops, 'the workers' pocket' and do not necessarily have scientific rigor but count as a reference.
The manipulation of stats by the official Indec office under both Nestor and Cristina Kirchner administrations forced the emergence of the Congress index, unions estimates and clashes with the IMF. The manipulation of inflation and GDP indexes was basically geared to put a clamp of labor demands, and on restructured bonds some of which are linked to the Argentine economy growth.