Peruvian president Humala honoured as "Statesman of the Year" in Canada
Saturday, April 12th 2014 - 08:06 UTC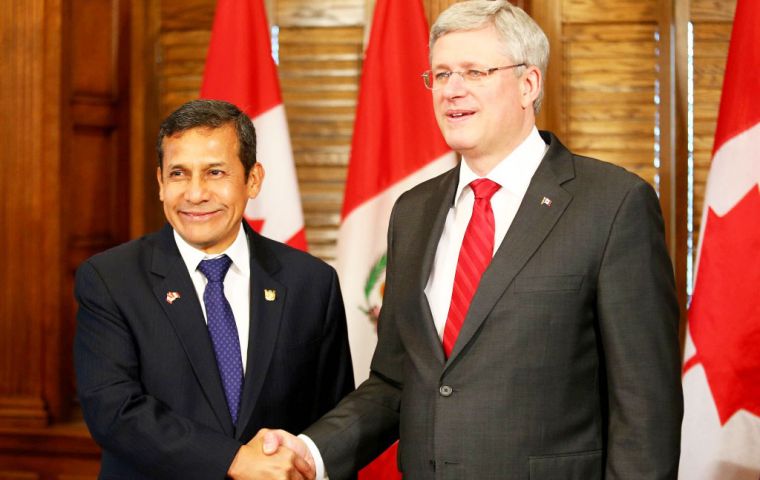 Peruvian President Ollanta Humala at the end of his three day visit to Canada was honoured in Toronto by the Canadian Council of the Americas with the "Statesman of the Year" annual award. On thanking the award President Humala said that Peru during this year is expected to expand over 5.5% while investment is set to increase by 8%.
"I am deeply grateful and accept this honour, not for myself, but as the representative of the Peruvian people" said Humala addressing the audience gathered at Toronto's Ritz Carlton.
"This is an award for Peru which strives daily to develop the potential of its resources given by nature and to achieve a fairer society driven by respect for freedom, democracy and equal opportunities".
Likewise, Humala ratified his administration's pledge on building a modern Peru, with development and social inclusion. "An aim which requires an appropriate international insertion in the fields of investment, market access, integration and cooperation," he said
Likewise Peru is an emerging country within a new area of fast development and transformation such as the Pacific Alliance, of which Canada has observer status. He also pointed out that in the last decade Peru's GDP has doubled, while exports have soared three-fold, despite the global financial crisis.
"The most cautious forecasts indicate Peru will continue to lead regional economic expansion during 2014 with a growth rate of between 5.5% and 6%, while private investment is likely to record an increase of nearly 8%" he said.
"We are a serious government that honours its promises and complies with what it signs", he underlined.
President Humala also pointed out that Peruvian democracy is being consolidated within a context where the poverty rate has been cut by half, which adds to the government's ongoing efforts to further strengthen and expand the country's middle class.
He also underlined the significance of education, a 'strategic priority', but not simply to distribute the country's wealth, rather "to teach how to create wealth".
The president described Canada as a strategic partner and pointed out that 'Canada is Peru's fourth trade partner'.
Kenneth Frankel, CCA president said that the Peruvian president has had an outstanding performance in managing his country's finances and has become a regional and international figure in global affairs.
"Humala has given evidence of a strong economic domestic leadership with a financial performance based on a robust sound economic policy, and at the same time has fortified the financial reforms initiated in Peru", said Frankel.
During his three-day visit to Canada President Humala met in Ottawa by Prime Minister Stephen Harper and also held discussions with Canada's Pensions Scheme, one of the country's major investment funds.