Falklands Governor Colin Roberts takes office next Tuesday 29 April
Monday, April 28th 2014 - 08:25 UTC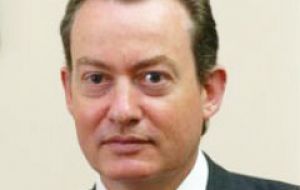 Falkland Islands governor designate Colin Roberts CVO will be taking the oath of office next Tuesday morning 29 April at the Court and Assembly Chamber of Stanley's Town Hall. The swearing in ceremony will be followed by a parade at Victory Green, according to a release from Gilbert House.
A Guard of Honor consisting of a combined tri-service detachment of the Royal Navy, Army and Royal Air Force and a detachment from the Falkland Islands Defense Force will form up at 1000 hrs. Youth Groups will also be in attendance.
At 1010 hrs the Governor will arrive and the inspection, parade and 17-volley salute will commence. All members of the public are cordially invited to observe the Parade, however because of limited space invited guests only are able to attend this ceremony.
Incoming governor Roberts replaces Nigel Haywood who took office in October 2010, the Islands on February 25th. However in the interregnum the post was covered by acting governor John Duncan, who took office on February 28th and left the Falklands last week.
Mr Roberts joined the Foreign Office in 1989 and his latest post was Director for Eastern Europe and Central Asia having served as Director for the Overseas Territories from 2008-2012. His FCO career has covered a wide range of roles including European Union affairs, security policy, Eastern Europe and the Far East as well as the Overseas Territories.
On his appointment as Governor of the Falkland Islands, Mr Roberts has said he was looking forward to his new post since "I am a great admirer of the achievements of the people of the Falkland Islands. I look forward to working with the community and their elected representatives for a secure and prosperous future".
Mr. Roberts is no stranger to the Falklands because of his previous role as Director of Overseas Territories Directorate and some exchanges with Argentine ambassador Alicia Castro.
The incoming governor was also ambassador in Lithuania (2004/2008); Political Counsellor in Tokyo (2001/2004); from 1998 to 2001, head of FCO Common Foreign and Security Policy Department; Paris, First Secretary for Politico-Military Affairs (1997/98); FCO, Head of Justice and Home Affairs Section, European Union Department (Internal) (1995/96); FCO, Head of Gibraltar Section, European Union Department (Internal) (1995); Tokyo, First Secretary for Political Affairs (1993/94); Tokyo, Second Secretary for Economic and Financial Affairs (1990/92).
Mr. Roberts is fluent in Japanese and was a lecturer as the Ritsumeikan University of Kyoto. He is married to Camilla and have two children, Oliver and Alexander.
John Duncan OBE who spent a couple of months in the Falklands was appointed HM Governor of the British Virgin Islands in June 2013, a post he will take up in mid-2014. Before taking the post of acting governor he attached to the Overseas Territories Directorate of the Foreign and Commonwealth Office (FCO).
He was previously Deputy and then acting Head of the former South Atlantic Dependant Territories and Antarctic Department from 1996-98, during which time he visited the Falkland Islands.
On leaving Mr. Duncan twitted in his last day in the Falklands that its was "great to have seen the huge progress in past 17 years. Sad to leave but looking forward to BVI in three months"
The Governor of the Falkland Islands is also Commissioner of South Georgia and South Sandwich Islands.
In related news the Falkland Islands Government annual reception at Lincoln's Inn in London will be taking place this year on Tuesday 10th June 2014. Any Falkland Islands' residents who will be in the UK at that time and would like to attend the reception, are invited to forward their names and UK contact addresses to the Secretariat, Stanley.