Argentina and Brazil plan to prop economies by stimulating the auto industry
Tuesday, April 29th 2014 - 06:31 UTC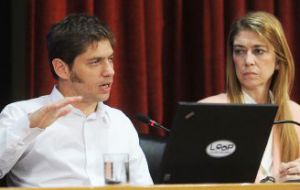 Argentine Economy Minister Axel Kicillof and Industry Minister Débora Giorgi fly to Brasilia on Tuesday in a bid to swing the automobile trade balance in Argentina's favor, with the sector accounting for the majority of a total 3.15 billion dollars trade deficit. From Brazil Finance minister Guido Mantega confirmed bilateral discussions on the auto industry and exports.
With car production down 16% in Argentina and 8.4% in the first quarter of 2014 compared to the same three months last year, both parts are keen to extend the existing pact.
Both countries have a history in collaborating to protect their respective auto sectors, with multinational firms including Fiat, Renault and Volkswagen setting up major plants in both Brazil and Argentina.
In 2012, Argentine barriers sank Brazil's exports to the neighboring market by 20%, and although trade gradually started to flow again thereafter, recent developments have brought back concern.
On Friday, INDEC revised 2013 figures and reported a trade surplus of 8 billion for the year, one billion lower than before.
Argentina's trade balance plunged 92% in the first quarter of the year, compared to the same period last year, with the surplus coming in at 121 million, according to INDEC
In March, Brazil's Trade Ministry reported that the country bought 1.218 billions worth of Argentine goods in March, 16.8% less than the same month of 2013.
Imports from Brazil to Argentina clocked 1.183 billion in the third month of the year, 15.3% below the same period of 2013. Bilateral Argentina/Brazil trade contracted a significant 16% in March, leaving a minor 35 million surplus in Argentina's favor.
Aside from the automobile sector, the Brazilian government pointed to drops in purchases of agricultural machinery and pharmaceutical and semi-finished products.
In Sao Paulo Finance minister Mantega confirmed that the Brazilian government was considering mechanisms to help prop the auto industry by promoting exports to Argentina.
"We're discussing with Argentina lifting obstacles to the export of vehicles and making finance more viable and accessible, which will be private, with certain conditions", said Mantega.
The minister added that the government of Dilma Rousseff has always supported industries that contribute heavily to the country's GDP and "we will never allow unemployment to increase. We are always ready to implement measures".
During the first quarte of this year, Brazilian auto makers claim they lost 32% exports to Argentina because of trade obstacles, according to data from the Brazil National Association of Auto Manufacturers, Anfavea.