Majority of Uruguayans rate Argentina as 'the less friendly country', says poll
Friday, May 2nd 2014 - 08:28 UTC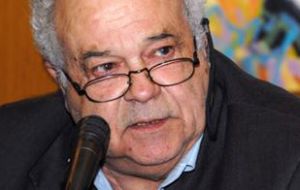 A clear majority of Uruguayans, 61% believe Argentina is the "less friendly" country, according to a March 13/23 public opinion poll, with 1.013 interviews in Montevideo and the main urban locations in the rest of the country.
Three other countries figure in the list, Brazil, Colombia and Venezuela but only with a 2% 'less friendly' index. While 22% did not know or did not reply and 5% simply said "none".
Although neighbors and with very close links the percentage should not come as a surprise given the long list of conflicts of Uruguay with the Argentine governments of presidents Nestor Kirchner and Cristina Fernandez, beginning with the impact of the dispute over the construction of the Botnia pulp mill.
This happened mostly during the mandate of former president Tabare Vazquez (2005/2010) who repeatedly clashed over the issue with former president Nestor Kirchner and Entre Rios governor Jorge Busti who openly supported the environmentalists and militants who aggressively protested the construction of the mill and blocked for years an international bridge.
But differences are not limited to the ongoing dispute, which reached the International Court of Justice in The Hague, but to other fields: restriction of bilateral trade; ignoring Mercosur rules; impeding the dredging of shared River Plate canals and obstacles to the activity of Uruguay's second important port, Nueva Palmira.
"These conflicts have had an accumulative impact, with occasional peaks of clashes plus well exposed diplomatic incidents", according to pollster Cifra analysts.
To this must be added the remembered incident when Uruguayan president Jose Mujica was caught with an open microphone calling Cristina Fernandez "the old stubborn tart" and her husband the "one-eyed man".
Other incidents include a tense meeting in Chile between President Vazquez and Nestor Kirchner, following which Uruguay authorized the Botnia pulp mill to begin operations. Likewise when President Cristina Fernandez took office for the first time and during her speech before Congress openly accused Vazquez of violating the River Uruguay treaty. The Uruguayan president had no chance of defending himself.
And the latest incident but not covered by the poll refers to Defense minister Eleuterio Fernandez Huidobro, and probably President Mujica's closest long time friend, who during a recent political rally refereed to Argentina's seventh president Faustino Sarmiento (1811/1888) as 'a true son of a b....' for instigating the killing of 'gauchos to fertilize the land'.
"Yes, it is true Sarmiento started government schools and promoted education in Argentina, but it is also true that he was a true son of a b.... for having promoted the killings of gauchos to fertilize the land", Fernandez Huidobro was quoted.