Argentina's April inflation for the Congressional index reached 2.8%
Friday, May 16th 2014 - 10:06 UTC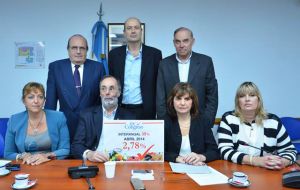 Argentina's inflation congressional index marked 2.8% in April, or 15.78% in the first four months of the year and 39% in the last twelve. These percentages contrast with the official data from the Indec stats office which earlier this week said the April CPI was 1.8%.
The so called 'congressional index' which is an average of the main private economic consultants of Argentina, is released every month by opposition members from the Freedom of Expression committee of the Lower House, and was created precisely to counter what were considered government 'manipulated indexes'.
"The Congress CPI for the months of April is 2.78% and 39% in twelve months" said lawmaker Patricia Bullrich who described the latest official inflation announcement "another fraud from the new Indec"
"Minister of Economy Axel Kicillof should charge before a criminal court those responsible for the destruction of Indec back in 2007 to our days", added Bullrich.
Argentina launched a new CPI at the beginning of the year, which was elaborated with support and advice from the IMF that strongly questioned the previous percentages regarding inflation and GDP, and had warned and threatened Argentina with sanctions because of the unreliability of Indec releases.
However the new index which seems more trustworthy compared to the previous one has also been criticized precisely because private consultants and the City of Buenos Aires indexes differ significantly from the still austere percentages released by Indec. In this case a full one percentage point.
"Indec continues to mislead, and that is why we must insist in notifying every month the more reliable index on inflation" said lawmaker Carlos Brown who added that "the government is cheating on itself, and this prevents it from addressing the inflation problem Argentina suffers".
On Wednesday minister Kicillof, who has become the strong man in economic affairs announced the 1.8% for April and the 11.9% of the first four months. He added that May is showing a 'strong deceleration' of prices.