Bachelet promises to buy and return disputed lands to Chile's tribes
Wednesday, June 25th 2014 - 06:28 UTC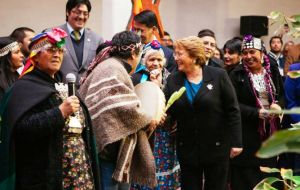 President Michelle Bachelet announced a plan to buy and return disputed ancestral lands to Chile's indigenous communities as part of a strategy to better incorporate them into the country's political process and economic development.
Chile's indigenous peoples, which include the Mapuche, Aymara and Diaguita, have an underweight representation in Congress and often face a harsh economic reality in what is otherwise one of Latin America's wealthiest countries.
Years of conflict over land claims have increasingly flared into violence between the Mapuche, the largest indigenous group, and local farmers, forestry companies and police, putting pressure on the government to act.
"It has been nearly 25 years since we got back our democracy" Bachelet said at the presidential palace in Santiago, flanked by representatives of indigenous communities.
"It is time to have the courage to take new steps with a view not to the short-term, but rather the (long-term) development that has been so difficult to obtain for our indigenous sisters and brothers."
Her plan includes giving the communities greater representation in Congress, although she didn't give details of how it would work, and the creation of an institutional framework tasked with overseeing "indigenous matters."
The government will also strengthen its program of buying back privately-owned land claimed by indigenous communities with the purpose of returning it to them, Bachelet said.
"We're at a juncture to expand and recognize the rights of Chile's indigenous communities," said Bachelet, a center-left politician who served as president from 2006 to 2010 and began a second term in March.
The Mapuche account for about 600,000 of Chile's 17 million inhabitants and are largely clustered in the country's central-south region, one of its poorest regions and home to much of its forestry and paper industry.