Peru Interior minister accused of killing a journalist in 1988; refuses to resign
Saturday, July 5th 2014 - 09:26 UTC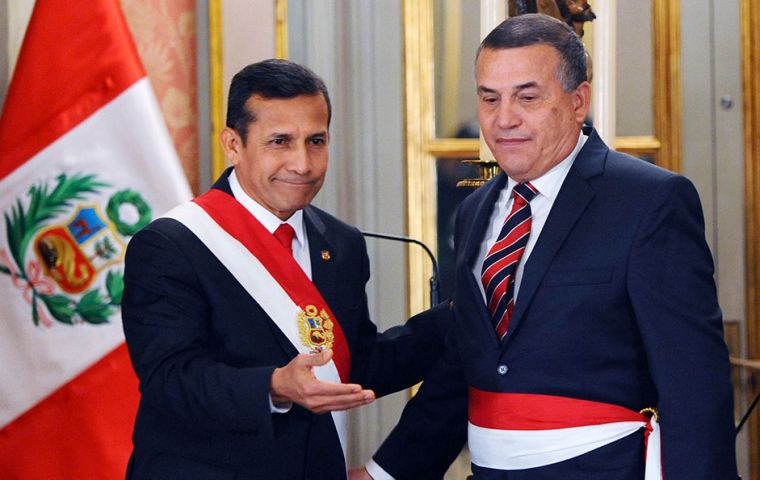 Peru's newly named interior minister has acknowledged being formally accused of murder in the 1988 killing of a journalist when he was a young army intelligence officer fighting Shining Path rebels. But Daniel Urresti faced reporters and proclaimed his innocence and said he had no plans to resign.
"I am completely innocent. My hands are free of blood. I did nothing," Urresti, 57, said at a news conference. Lima radio outlet Ideele revealed the charges earlier in the week in a morning program, and also posted a court document online.
Two other local papers, El Comercio and La Republica, also published the documents on the Internet.
The victim was Hugo Bustios of Caretas Magazine, who was ambushed by soldiers in the Ayacucho region while investigating the alleged extrajudicial killings of civilians. His body was dynamited.
Two soldiers were convicted six years ago of killing Bustios. One claimed Urresti was among the killers.
In addition, during a meeting with journalists about his anti-crime campaign, Urresti evaded questions about whether as an army captain he was a member of the patrol that killed Bustios.
According to court papers obtained by reporters, Urresti allegedly led the patrol that ambushed Bustios with gunfire and then dynamited his body.
Last year, a judge in Ayacucho, Bladimiro Chuquimbalqui, approved a formal investigation of Urresti based on the testimony of two other soldiers.
At the time of Bustios' killing, he was assigned to an army base in Castropampa in a region of nearly daily combat with the Maoist-inspired Shining Path, according to the court papers.
Meanwhile, Peruvian president Ollanta Humala backed his newly named interior minister.
"The lawyers indicate that what we have here is a strange case. We don't see that he's guilty," Humala, also a former army officer, told reporters at Peru's presidential palace. "We believe in the presumption of innocence."
Urresti said Humala knew about the charges, filed last year, when he named him minister last month. Humala also fought the Shining Path during the 1980-2000 conflict, which claimed nearly 70,000 lives, mostly civilians.