Cristina Fernandez will miss the Maracana final; ten leaders are expected to attend
Saturday, July 12th 2014 - 10:24 UTC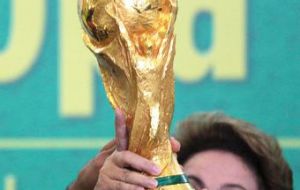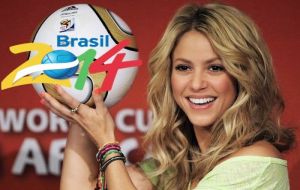 Argentine president Cristina Fernandez will not be attending the Brazil World Cup final in Maracana stadium on Sunday when Argentina clashes with Germany, but will be present for the BRICS-Unasur-Mercosur summit scheduled for next week.
In a letter addressed to Brazilian president Dilma Rousseff, the Argentine leader thanks her peer for the invitation to attend next Sunday 13 July with other heads of state the final ceremony, when the FIFA World Cup is to be handed to the winner of the Argentina-Germany match in Rio do Janeiro.
"For over a week I have been suffering a severe case of pharyngo-laryngitis which has impeded me from organizing the normal government agenda and today I'm coming out or convalescence" said the Argentine president.
Cristina Fernandez added that on Saturday she will be receiving in Buenos Aires, the president of the Russian Federation Vladimir Putin on an official visit to Argentina, and on Tuesday 15 I must travel to Brasilia to attend on the following day the Brics-Unasur meeting.
But the Argentine leader also points out that on "14 July my grandson Nestor Ivan who lives in Rio Gallegos will be one year old. You can imagine that as a grandmother, just like you, how much I'm looking forward to share with my family this event".
"The doctors have recommended that I travel to Rio Gallegos (three hours flight) on condition that I rest on Sunday and then fly directly from Rio Gallegos to Brasilia on 15 July, avoiding all physical efforts and reiterating that flights can cause a relapse of the sickness", concludes the letter.
But despite the absence of Cristina Fernandez at least ten world leaders are expected on Sunday at the Maracaná stadium next to Dilma Rousseff.
The Brazilian president will be handing the Cup to the next World champion and apparently it will also involve two BRICS leaders, Russia's Putin and South Africa's Jacob Zuma. Putin because Russia is organizing the next 2018 Cup and Zuma because South Africa hosted the competition in 2010.
As can be expected Germany's Chancellor Angela Merkel and president Joachim Gauck will also be attending, since their country has great chances of winning the Cup.
China's Xi Jinping on a Latin American tour before attending the BRICS summit in Fortaleza, is also expected but has yet to be confirmed. The heads of state confirmed include Hungary's Janos Ader; Congo's Sassou-Nguesso; Democratic Republic of Congo, Joseph Kabila, Haiti's Michel Martley, Uruguay's Jose Mujica and Paraguay's Horacio Cartes.
Others announced include leaders from Finland, Trinidad and Tobago, Gabon and Equatorial Guinea.
President Rousseff will be hosting her visiting peers with a special lunch a few hours before the 16:00 hours match.
The ceremony before the match will include artistic displays from Colombian singer Shakira; Mexican guitarist Carlos Santana; Haitian rapper Wyclef Jean and Brazil's Ivete Sangalo, Alexandre Pires and Carlinhos Brown as well as the samba group Academicos do Grande Rio.
Brazilian authorities also revealed that security for the last match, with the attendance of so many heads of state, will be extremely tight with over 26.000 law enforcement and security agents, including elite groups from the Armed Forces. Besides there will be 1.500 plain-cloth security guards inside the stadium.
Following a meeting with FIFA officials and members from the federal government, Justice minister Jose Eduardo Cardozo pointed out that the security operation was not the result of what is expected as a massive affluence of Argentine fans and supporters.
"This is no special reinforcement. This was clearly planned long time ago for the final match and ceremony. I'm sure it will be a great success because the world understands that special relation of Brazil with the World Cup. We lost in the field but outside we are winning and we are being praised for that", said Cardozo.
The 2014 World Cup took off in Sao Paulo 12 June and during the month long competition, the security operation involved 100.000 law enforcement agents and 50.000 from the Armed Forces displayed mainly throughout the country. According to the Justice ministry the cost of the overall operation during the month long competition had a cost of 855 million dollars.