Falklands: Putin calls on UK to sit and talk with Argentina to resolve the dispute
Monday, July 14th 2014 - 05:39 UTC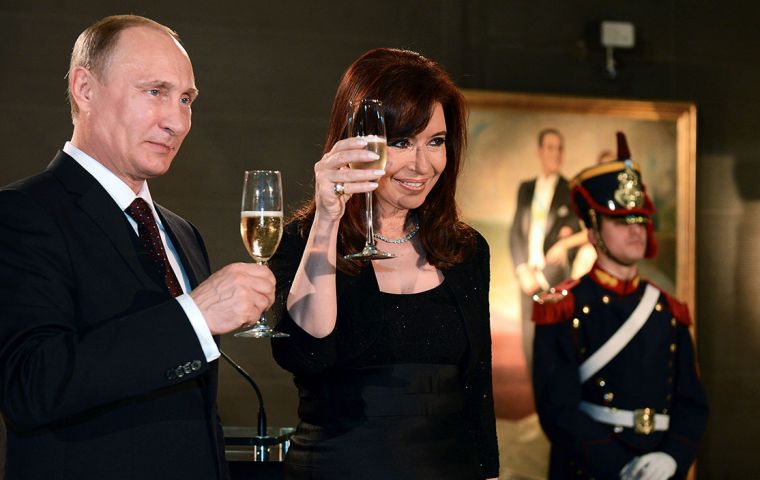 Russia's president Vladimir Putin has got involved in the Falkland Islands row, urging Britain it must sit down with Argentina for fresh talks to resolve the dispute, as indicated by the United Nations.
Putin, who has faced international criticism over the annexation of Crimea and continuing tensions on the Ukraine border, said his country supported "the necessity" to find a solution to the 200-year-old feud.
Speaking at a dinner with Argentine President Cristina Fernandez on a one-day visit to the country, Putin added: "I'd like to draw attention to the words of the president regarding double discourse in international affairs."
President Cristina Fernandez has previously accused Britain of double standards for criticising a pro-Russian secession vote in Crimea, while using last year's Falklands referendum, in which Islanders voted overwhelmingly in favour of remaining British, to justify its rule of the archipelago.
At the dinner with Putin, her Argentine peer thanked the Russian leader for supporting her country's "national cause".
"Colonisation is a dark cloud over the 20th and 19th centuries and something that should be totally wiped out," she said.
"We thank the position of Russia regarding the Falkland Islands and I am going to call a toast in the name of, as you put it, a world without double discourse ... where the international rights are the same for everyone and applied the same way everywhere."
Last month, the UN Decolonization committee, as has happened regularly, approved a resolution calling on the UK and Argentina to negotiate over the Falkland Islands.
Argentina's foreign minister Hector Timerman told the UN special committee on decolonisation the UK's refusal to "fulfil its obligations to negotiate" over the Islands' sovereignty went against the founding principle of the UN.
However, Falklands residents gave speeches at the meeting, saying they were "happy with the current status and don't want to change it". Britain has consistently argued that the right to self determination and the Islanders decision on their future is paramount and enshrined in the UN chart.