Venezuela admits its ever growing dependency from China
Tuesday, July 22nd 2014 - 06:25 UTC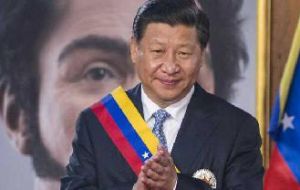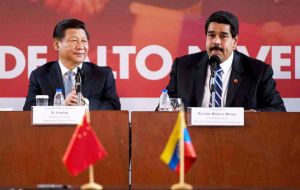 Venezuela confirmed Monday that its relations with China have become a fundamental pillar for making progress in almost all sectors of its economy. With a new portfolio of accords and almost 5.7 billion in loans, Beijing will provide support in many key areas.
Facing China's Xi Jinping at the closing ceremony of the 13th bilateral Mixed Commission, President Nicolas Maduro told his Chinese counterpart that his visit of little more than 24 hours had "surpassed all expectations."
Maduro and Xi closed the meeting having added a number of new pacts to the more than 500 already accumulated in their bilateral relations.
From agriculture and finance to telecommunications, infrastructure and trade, the two leaders agreed that the door opened by the late Hugo Chavez 15 years ago continues to be "a breath of fresh air" to the economy of Venezuela.
"The financing...doesn't burden our country with unmanageable debt, it is financing backed by a formula of production and supply of barrels of oil that now amounts to some 524,000 barrels per day to China," Maduro said.
"That means it is an honorable formula that provides financing and development without creating burdensome debts as the old systems did," he said.
The "honorable formula" has put 45 billion from China into a joint fund to finance projects in Venezuela, a sum that with Venezuela's contribution totals 56 billion in available money.
"Venezuela has become one of the places most committed to investments from China, the biggest market for construction works, the seventh supplier of oil and China's fourth largest trade partner in Latin America," Xi said.
In evaluating the details of the cooperation plan, Maduro said that the priority areas are led by the energy and natural resources sector, with investments in petroleum, the petrochemical industry and the generation of electricity.
This sector is followed by infrastructure and agriculture - about which Maduro noted that only some 10% of Venezuela's arable land is under cultivation - with manufacturing, technical innovation and computer technology completing the list.
Maduro also hailed the signing of an accord for the construction of a third satellite, a new contribution to "the aerospace race in which, with the aid of China, Venezuela modestly continues to make progress," he said.
The Chinese president has been on a visit to Latin-American that included Brazil, Argentina, Venezuela and on Tuesday Cuba. Xi kicked off his tour last week by proposing a new 20 billion dollars infrastructure fund for Latin America, underlining Beijing's increasing interest in the region.
"China's political and economic expansion is pragmatic in character. It's not about ideology or competition with the United States, but a Chinese policy of looking long-term for natural resources in different parts of the world," said Venezuelan political analyst Carlos Romero.
"China knows Argentina and Venezuela hold huge natural resource deposits, particularly two they are desperately searching for to fuel an economy and a society like China's: oil and food in the case of Argentina, and oil and gas in the case of Venezuela" added Romero.
Chinese trade with Latin America has grown rapidly in recent years, reaching 261.6 billion in 2013. China is now the second-largest trading partner of many countries, including Argentina and Cuba, and has been Brazil's largest since 2009. In 1990, China ranked just 17th on the list of Latin American export destinations.
This is Xi's second visit to Latin America and the Caribbean since taking office in 2013. Last year he toured Mexico, Costa Rica and Trinidad and Tobago.