Peru announces increase in government spending to prop the economy
Tuesday, July 29th 2014 - 05:17 UTC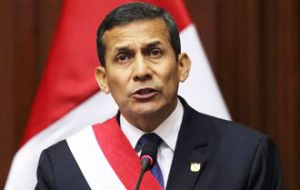 Peru's President Ollanta Humala said on Monday that his government is countering slow economic growth by boosting public spending on improved wages and better benefits for public health, education and security workers.
Humala said the extra 1.5 billion soles (540 million dollars) he was authorizing various ministries and government programs to spend this year will help lift economic growth from the 3.6% rate posted so far this year.
Peru, the world's third-biggest copper producer, posted annual expansions that topped 6% during most of the past decade, but tumbling mineral exports and softening domestic demand have dragged down growth more than expected this year.
"We have to grow more, to continue generating wealth and jobs," Humala said in a speech to the nation that marked Peru's independence day and the start of his fourth year in power.
Humala also said that he decreed a plan to diversify the country's mining-dependent economy and is presenting Congress with additional measures to stimulate domestic demand, including incentives for the construction and housing sector.
Another change would allow private investments of between 20% and 49% in Peru's state-run electrical utilities, Humala said.
Last month Congress passed an economic reform package proposed by Humala that aimed to cut red tape, lock in tax rates for big mining projects and relax environmental regulations.
Humala, who is constitutionally barred from running from a second consecutive term in 2016, has seen his popularity rating slip to around 25% since being elected in 2011. The economy will likely grow around 4% this year, said Production Minister Piero Ghezzi, down from 2013's 5.8% expansion.