Griesa summons hearing for Friday; Argentina launches proceedings against the US in The Hague
Friday, August 8th 2014 - 07:09 UTC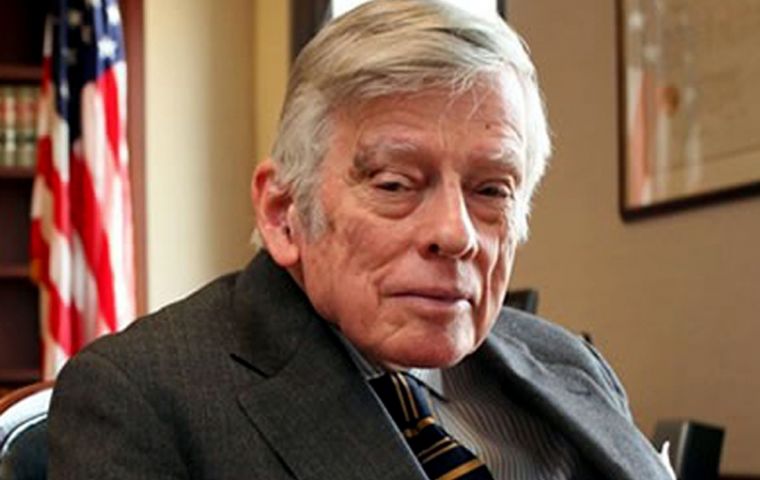 New York District judge Thomas Griesa has scheduled a hearing at 4 pm local time on Friday to address Argentina's recent public statements over their attempts to pay creditors, a court official said. Representatives from both Argentina and holdout investors have been called to the hearing, which will take place in New York.
Griesa, who has blocked Argentina from paying holders of restructured bonds unless it also pays hedge funds that rejected the terms of debt restructurings in 2005 and 2010, set the hearing after Argentina continued to press the Bank of New York to deliver 539 million dollars in bond payments.
The funds represent interest services to creditors who entered debt restructuring in 2005 and 2010, but who have been unable to receive payment as the deadline of July 30 passed without an agreement between Argentina and the holdouts, which the government of President Cristina Fernandez refers to as "vulture funds".
Griesa has ordered the Bank of New York to hold the Argentine funds and has said Argentina's attempt to pay restructured bond holders was illegal.
Meanwhile it was reported that Argentina asked the world court in The Hague to launch proceedings against the United States over Argentine sovereign debt, the latest move in Cristina Fernandez government long-standing dispute with holdout creditors.
A statement issued by the International Court of Justice, the UN's highest court for disputes between nations, said the request had been "transmitted to the US Government. However, no action will be taken in the proceedings unless and until" Washington accepts the court's jurisdiction.
Argentina said in its application to the court that the United States had "committed violations of Argentine sovereignty and immunities and other related violations as a result of judicial decisions adopted by US tribunals."