Santos pledges peace on inauguration ceremony but also warns FARC
Friday, August 8th 2014 - 07:18 UTC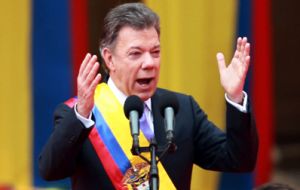 Colombia's President Juan Manuel Santos was sworn in to a second term on Thursday promising to bring peace and equality to the nation, but warned Narco-Marxist rebels that talks to end five decades of war could rupture if hostilities against civilians continue. "Members of the FARC: you have been warned!" he said.
Santos bet his political legacy on ending a conflict with the Revolutionary Armed Forces of Colombia (FARC) that has killed more than 200,000 people, displaced millions and left great swathes of rural terrain seeded with land mines.
But even though he was elected on a platform of peace and benefited from progress in talks, the FARC has angered Colombians in recent weeks with an increase in attacks that have left a heavy economic and social price tag.
"Acts of peace, that's what the Colombian people ask for today," Santos said after receiving the sash of office and asking the FARC to stop all violence against women and children.
"I will employ all my energy to bring peace during this mandate."
The center-right Santos pledged to build on four years of economic growth, improvements in health and education and a make a bigger stride toward equality in a nation that has one of the world's widest income gaps.
"Imagine for a minute, a country in total peace, with equality and with the highest level of education in the region," he told eleven heads of state and other dignitaries at the ceremony.
While Santos, the scion of one of Colombia's most powerful families, won re-election promising an end to the war, 45% of voters backed his rival and sought an end to the talks.