Argentina/holdouts, a clash between 'global financial power and political power'
Monday, August 11th 2014 - 01:54 UTC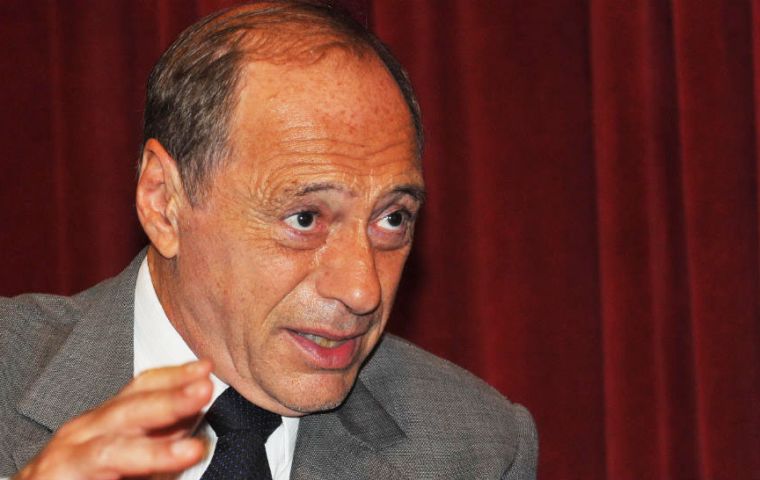 A Judge from Argentina's Supreme Court joined the ongoing battle in New York between the Argentine government and the holdouts and slashed out at the US Supreme Court for rejecting to take the case back in June. Eugenio Zaffaroni argued that the conflict must be addressed in the context of "attacks from the global financial power on political power".
"It is the position of the US top tribunal in Argentina's debt battle against so called "vulture funds" that represents a "scandal" rather than the behavior of New York Judge Thomas Griesa", said member of the Supreme Court Zaffaroni.
"I think the mayor scandal is not Griesa, who is a provincial judge; the biggest scandal is the US Supreme Court saying 'I don't care about this country (Argentina), I don't care about those million dollars'," Zaffaroni underlined analyzing Argentina's legal battle against holdout creditors suing it over its defaulted bonds.
Back in June, the US maximum court declined to hear Argentina's appeal over its battle with hedge funds that refused to take part in its 2005 and 2010 debt restructurings. Swapped (2005 and 2010) bond holders total 93% while the holdouts represent 7%.
"Griesa is not even a federal judge but he takes measures trying to put a country on the rack, along with its economy, discussing its sovereignty."
Last week, the government of President Cristina Fernández filed a legal case against the United States judiciary in the International Court of Justice in The Hague, which apparently the US administration has rejected, but for Zaffaroni "the move was worth trying."
Zaffaroni who is an expert in human rights law, and is considered the Judge at the Argentine Supreme Court closest to the administration of President Cristina Fernández said that "Argentina's conflict with 'vulture funds' must be addressed within the context of 'attacks' from the global financial power to the political power."
But fellow Judge and Supreme Court Chief Justice Ricardo Lorenzetti had another opinion, arguing that "the debt has to be paid", but "with humans rights as limits".
"The (Argentine Supreme) Court has expressed its opinion on the external debt, one very different from that of (US Federal) judge Thomas Griesa, in the Galli probe" Lorenzetti said in reference to a 2005 case where it backed the Argentine government's restructuring strategy.
"We say that the debt has to be paid but not at the expense of the people's sacrifice".
In 2005, the Court backed the 'pesification' and the Nestor Kirchner government's decision to default in order to open the debt restructuring process by rejecting an appeal from two dollar-denominated bondholders –Hugo Galli and Silvia Attardi- who demanded to be paid in dollars.
"Beyond financial issues, there is the people who suffer the consequences of execution, of crisis. The debt has to be paid, but with human rights as limits," Lorenzetti stated.