Santiago's security chief fires following the record "embarrassing" robbery
Thursday, August 14th 2014 - 06:19 UTC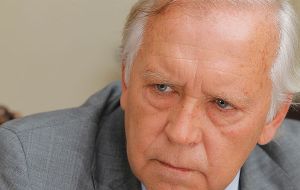 Chile has fired the security chief of the country's main airport after an "embarrassing" robbery of more than 10 million dollars at the cargo terminal. Defense Minister Jorge Burgos said a probe had been launched into how eight armed men had managed to steal the money from a security van at the airport in the capital, Santiago.
He called Tuesday's incident "unfortunate and serious". Security footage showed the gang had acted disguised as airport workers.
"While the investigation is being carried out, the security chief of Arturo Merino Benitez Airport (Rolando Alegria) has been relieved from his duties," Mr Burgos told a news conference.
He also pledged that the airport's security measures would be "revised, modified and altered".
Dressed as ground personnel, the robbers entered the cargo area of Santiago's international airport and intercepted the armored vehicle carrying the money. It was being loaded onto a plane bound for banks and mining companies in northern Chile.
The gunmen held up the guards, who had left their weapons at airport security, and emptied the security truck, before running away without firing any shots.
The robbery itself - one of the biggest in Chilean history - was not captured on camera, but the footage showed the bandits fleeing in two white vans two minutes after the theft.
On Tuesday, Chilean Interior Minister Mahmud Aleuy called security at the airport "an embarrassment".
The size of the loot surpasses that of a similar robbery in 2006, when thieves stole 1.6m from a Brink's delivery at the same airport terminal.
The men behind that robbery were eventually captured and are serving time in prison.