Trust in Argentine reliability has vanished, as a result of the bonds' litigation
Saturday, August 16th 2014 - 11:32 UTC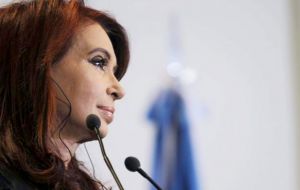 Debt talks on Argentina's defaulted bonds in the hands of holdout hedge funds ultimately collapsed this week due to disagreements over prices and the absence of a government guarantee to honor payments on the paper, sources close to the discussions said.
International banks had appeared to be nearing agreement to buy defaulted Argentine debt from holdout creditors who have refused to accept restructuring deals with the country, offered both in 2005 and 2010.
President Cristina Fernández said on Thursday the collapse of a private deal proved what she has long said: that the vulture funds do not want to reach an agreement and their real goal is to make the country's debt-restructuring process collapse.
There were hopes a deal between Citigroup, Deutsche Bank, HSBC and JP Morgan on one side, and litigant investors led by Elliott Management and Aurelius Capital on the other, could come this week.
The two sides, however, could not agree on a price, particularly as the government's assurances weren't explicit or strong enough to justify a higher valuation, the sources said.
An initial offer of 80 cents on the dollar for the bonds was virtually halved to around 40 and 50 cents amid uncertainty over whether Argentina would actually pay the bonds: 1.33 billion dollars plus accrued interest next year.
For its part, Argentina was thought to be unwilling to provide a guarantee of payment to banks for fear of violating the Rights Upon Future Offers (RUFO) clause, which expires at the end of the year and requires it to offer equal terms to restructured bondholders as well.
"None of the big banks want to hold illiquid assets forever," said Jorge Piedrahita, chief executive at Torino Capital, a broker dealer focused on emerging market debt.
"You want more than a nod and a wink from (Argentine President) Cristina (Fernández)," he said. "And that was not coming from the government."
However the prevailing opinion is that: "There's no way an international bank can bridge funding when Argentina is looking riskier and riskier."
Holdout sources denied market rumors that Aurelius and Elliott themselves had been unable to agree on an offering price for the debt.
Heated public rhetoric from government officials also did little to assure participants that the country was supportive of a deal, according to the sources quoted.
After weeks of government accusations that US court-appointed mediator Daniel Pollack was "incompetent" and "biased," Cabinet Chief Jorge Capitanich said this week that the country was "in the hands of an international financial power comprised of small, voracious interests that form a real international mafia."
Holdout creditors have said they would be open to a hybrid deal involving payment with bonds. This is how Argentina paid settled claims due to the Paris Club and Spain's Repsol as compensation for the 2012 expropriation of its majority stake in YPF.