Nervous Cristina skirts New York court and pledges to service swapped bonds in Argentina
Wednesday, August 20th 2014 - 09:22 UTC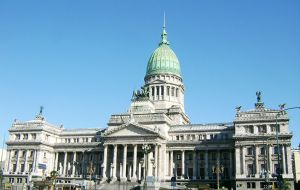 President Cristina Fernandez said on Tuesday her government will move to service its defaulted debt in Argentina or allow bondholders to swap their bonds for new bonds governed by national law in order to get around a U.S. court order.
Argentina slid into 'selective' default last month after a New York court blocked an interest payment owed to holders of debt that was restructured in 2005 and 2010, after the country's record 2002 default. The judge said Argentina could not pay that debt until it had also settled with a group of funds that had rejected the restructuring deal and were demanding full payment.
Fernandez's announcement killed hopes that Argentina might soon reach a deal with holdouts, enabling it to exit default.
In a televised speech, Fernandez said her government would send a bill to Congress to remove Bank of New York Mellon as the exchange bondholders' trustee and replace it with Argentina's Banco Nacion. The Banco Nacion would open up an account at the country's central bank to enable Argentina to service its exchange debt there.
Under the proposal, holders of bonds resulting from the 2005 and 2010 debt restructurings could also choose to swap their bonds for notes with "identical terms and financial conditions, and with equal nominal value" under Argentine law.
Holders of Argentina's 30 billion of sovereign bonds have been in limbo since U.S. District Court Judge Thomas Griesa blocked the nation's attempt to pay 539 million in interest due by July 30. His ruling was meant to compel Argentina to resolve unpaid debts from its 2001 default.
Argentina also plans to create a separate account for the holdout creditors such as Elliott and Aurelius Capital Management, who own 7.6% of debt from 2001 and didn't accept Argentina's previous debt swaps.
It would be used to deposit payments for holdouts under the same terms as the rest of its restructured debt, regardless of whether they decide to accept the swap.
Cristina Fernandez and her predecessor, who was her late husband Nestor Kirchner, persuaded about 92% of bondholders from the 95 billion default in 2001 to give up about 70% of their claims in debt swaps in 2005 and 2010. The restructuring allowed Argentina to exit a cycle of deepening indebtedness and fueled economic growth, Fernandez said on national television.
"When it comes to the sovereignty of our country and the conviction that we can no longer be extorted and that we can't become burdened with debt again, we are emerging as Argentines," Cristina Fernandez, who admitted being very nervous, said in a speech at the presidential palace in Buenos Aires.
The bill will be sent to lawmakers immediately and Economy Minister Axel Kicillof will hold a press conference on Wednesday to provide more details, she said.
Swapping the securities for new bonds will require the involvement of financial intermediaries and may be difficult given the legal constraints of the ruling; however it was expected, according to Argentine private sources, including former minister Roberto Lavagna, who was the main architect of the original debt restructuring.
Fernandez first said the government was considering a local law swap in August 2013. Kicillof mentioned the possibility again after the U.S. Supreme Court rejected the country's appeal in the U.S. court case in June.
The president has argued that obeying the ruling by paying the holdouts would trigger a Rights Upon Future Offers clause in the exchange bond contracts that obliges Argentina to match any improved offer to all bondholders. That could trigger claims of at least 120 billion, according to the proposal.
"If I signed what they're trying to make me sign, the bomb wouldn't explode now but rather there would surely be applause, marvelous headlines in the papers," Fernandez said. "But we would enter into the infernal cycle of debt which we've been subject to for so long."
The first reactions from the announcement came from opposition lawmakers who questioned the wisdom of changing Argentina's legal system for New York, given the notorious influence the Executive has over magistrates and the Judicial branch.
Likewise a financial columnist from La Nacion, Jorge Ovideo, calls the whole operation 'extremely dangerous' and could end in a major disaster. In effect some of the funds holding Argentine bonds are bound to US and New York jurisdiction for their investments. Besides how many financial agents would are challenge a ruling from a NY court.
"If the bet wasn't so dangerous, the president would have never wanted to share responsibility by making Congress and the opposition hostage of her battle cry "motherland or 'vultures'"
But chances of positive results are 'remote' and the potential for a 'major catastrophe' very high concludes Oviedo.