Cristina Fernandez proposes a new capital for Argentina and compares herself with San Martín
Wednesday, August 27th 2014 - 20:21 UTC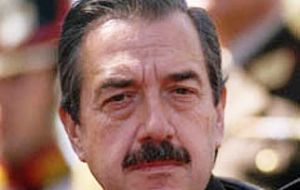 Argentine president Cristina Fernandez threw her weight behind moving the capital Buenos Aires to the northern province of Santiago del Estero, an idea hitherto only pioneered by Lower House Speaker Julian Domínguez.
The unexpected proposal "for a new territorial design in a changing world" came during a visit to that provincial capital to inaugurate infrastructural works ahead of this Sunday's elections in the northern province.
This marked the first time that a serving Argentine president has proposed a change of capital since Raul Alfonsin announced the transfer of the seat of government to the Rio Negro coastal town of Viedma in 1986 (an initiative which obviously never became reality).
But unlike Alfonsin, CFK stressed the necessity of the new capital being in the heart of the country and even though she herself spends almost every weekend deep south in her Calafate home in Santa Cruz, she also recommended a city lying further to the north rather than the Patagonian Viedma of Alfonsin's choice.
Although long regarded as a hinterland backwater, Santiago del Estero has been rising fast in Argentine politics. Late last year its two-term governor Gerardo Zamora (legally barred from re-election and installing his wife in his place) had barely entered the Upper House as a newly elected senator when he was named its provisional head, a move many pundits saw as a reaction to the growing legal entanglements of Vice-President Amado Boudou.
Zamora was reportedly given preference because, as a maverick from the opposition Radical party, he had no independent power base, unlike his Peronist colleagues.
Whereas Alfonsin decreed the move to Viedma in 1986, CFK stressed that she was only presenting "an idea which must be discussed and thought through by all Argentines."
One of the main virtues of the new capital, said CFK, would be being closer to the Pacific, which she saw as the future hub of the world, the "strategic thinking" which she said corresponds to leaders of a country. The latter should not rule just thinking of the four or eight years they are in charge but 50 years ahead.
In order to underline her determination, CFK said she would not be deterred even if opinion polls showed 80% to be against the idea.
"If (independence hero José de) San Martín had had to consult the opinion polls before crossing the Andes to liberate Chile and Peru, they would have been negative," she said.
Santiago del Estero in 1.150 north of Buenos Aires and the provincial capital has a population of 361.000.