HMS Iron Duke and Ice Patrol HMS Protector coincide in South Georgia
Thursday, October 9th 2014 - 07:44 UTC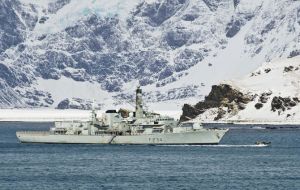 The Royal Navy HMS Iron Duke on Atlantic Patrol Tasking south berthed this week in South Georgia for a few days where she also met with Ice Patrol HMS Protector which arrived at the islands on her deployment to Antarctica, after battling hurricane force winds and 24 meters waves.
The Portsmouth based frigate anchored at Grytviken after carefully negotiating her way through floating icebergs, and welcomed on board members of the British Antarctic Survey (BAS) who explained the sensitive ecological environment of South Georgia.
The ship's company also visited South Georgia Government House and the BAS base at Kind Edward Point. The BAS people gave out that all-important passport stamp and set up a makeshift gift shop for the sailors to purchase postcards and souvenirs to take home.
HMS Iron Duke also met up with their ice patrol ship colleagues on board HMS Protector which had sailed across the South Atlantic and Southern ocean towards Antarctica, experiencing nearly three weeks and 3500 nm of extremely testing conditions.
Lieutenant Tom Hastings, who has recently joined straight from his Navigation course said: "In my first month as Navigator, I have sailed the Ice Patrol Ship across the roughest ocean on the planet and safely arrived in South Georgia. I have also seen my first iceberg and can't wait to see the rest of Antarctica."
Having suitably qualified and experienced personnel to undertake Antarctic Operations safely is essential but with such heavy seas opportunities for training serials were scarce and the snow capped mountains and icy waters of South Georgia provided the perfect environment to get back up to speed in operating in very cold weather.
In a brief five hour window HMS Protector provided the operation with most of her boats, endorsed the new Navigator and one of the Officers of the Watch in Dynamic Positioning (an ability the ship uses to maintain her position to centimeter accuracy in up to 80 kts of wind).
They also received briefs from the South Georgia Government and BAS and loaded equipment to allow marine samples to be preserved once collected by the ship's team of divers.
The ice patrol ship's tasking is extremely varied, ranging from Hydrographic Surveying and logistic support to assistance with scientific research. This year the diving team will collect marine specimens and bottom samples throughout the Antarctic Peninsula in support of BAS environmental research.
HMS Protector is due to return to the UK next summer after a full season in Antarctica. HMS Iron Duke left Portsmouth in June for a seven-month South Atlantic patrol and will return before Christmas.
HMS Iron Duke provides ongoing protection and reassurance to British interests in the South Atlantic, maintaining the continuous Royal Naval presence in the Atlantic.