Royal Navy invests £348 million in three new offshore patrol vessels
Monday, October 13th 2014 - 06:47 UTC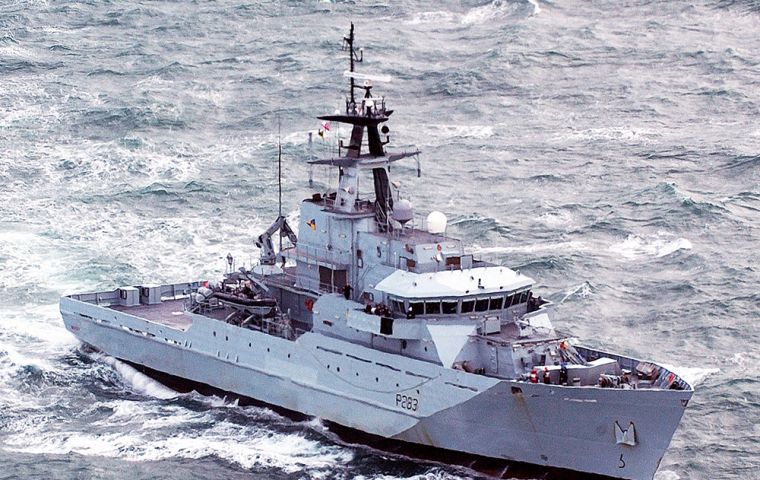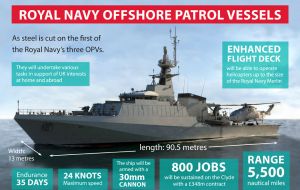 Steel was cut this week for the first of three new Royal Navy offshore patrol vessels (OPVs) at a ceremony in Glasgow. The vessels, which will be used by the Royal Navy to undertake various tasks in support of UK interests both at home and abroad, will be built at BAE Systems' shipyards under a £348 million contract that has protected more than 800 Scottish jobs.
Defense Secretary Michael Fallon said the multi-million-pound contract will benefit the dedicated workers of the Clyde, their families and the local economy in Glasgow.
"This investment by the UK government is vital for the sustainment of naval shipbuilding in this country and the hundreds of specialist manufacturing and engineering roles that play an important role in providing war-fighting capability for the Royal Navy", added Fallon.
Bernard Gray, MOD's Chief of Defense Materiel, started the computer-guided laser to cut the first piece of steel and after the ceremony Mr Gray met members of the workforce during a tour of the facility.
"I am proud to be able to start production work on this new class of ships, which will maintain the vital UK expertise needed to build the warships of the future.
"This contract, which will benefit the local economy in Glasgow, continues a 200-year tradition of building the nation's leading ships on the Clyde and will sustain hundreds of jobs across the region".
Featuring a redesigned flight deck to operate the latest Merlin helicopters as well as increased storage and accommodation facilities, the OPVs build on the proven capability of the Royal Navy's current River Class vessels.
Having played an important role in the construction of HMS Queen Elizabeth, which was named by Queen Elizabeth II in a ceremony this summer, workers on the Clyde are now manufacturing blocks for the second aircraft carrier, the Prince of Wales, which is being assembled at Rosyth dockyard near Edinburgh.
The first of the new OPVs will be named HMS Forth and is expected to be handed over to the Royal Navy in 2017. The second will be named HMS Medway and the third HMS Trent.
The OPVs are around 90m long and 13m wide, displace approximately 2,000 tons, have a top speed of 24 knots and a range of over 5,000 nautical miles. They will be operated by a ship's company of 34 and can accommodate a total of 60 personnel (including the crew) on board. The ships will be armed with 1x 30MM cannon and will be able to operate helicopters up to the size of the Royal Navy Merlin. (RN)