Mapuches and other indigenous groups fight police on Columbus Day
Tuesday, October 14th 2014 - 06:38 UTC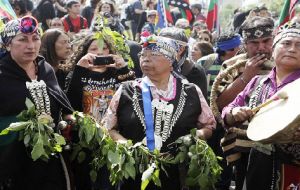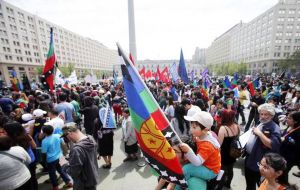 Chilean police fired tear gas and water cannon on Sunday to break up thousands of indigenous protesters demanding land rights and condemning Columbus Day, after masked demonstrators began throwing stones.
The march in Santiago began festively, with demonstrators decked out in colourful clothing and playing traditional indigenous music from around the country. But some protesters turned violent, throwing stones at police, who responded by firing water cannon and tear gas.
That broke up the demonstrators, who police said numbered about 6,000.
The march in the capital came as Chile commemorated the anniversary of Christopher Columbus's arrival in the Americas on October 12, 1492; an event many in the country's indigenous communities argue should not be celebrated with a holiday.
The protest also drew together activists for a number of indigenous causes, including the fight by the Mapuche, Chile's largest indigenous group, for property rights over their ancestral lands in the south.
"We're sending a clear message to President (Michelle) Bachelet... We're not going to stop fighting to get back our land," said Freddy Melinao from the Mapuche village of Kuyen Mapu.
Rights groups in Chile have accused the police of using excessive force against indigenous activists.
Hundreds of indigenous people have been jailed in the past decade for occupying or setting fire to buildings, and about a dozen have been killed in police operations, according to rights groups.
Chile applies to indigenous uprisings and protests a very strict anti-terrorist legislation, with some lenient modifications, which was drafted during the time of dictator Augusto Pinochet and has been strongly criticized by human rights groups, UN and Amnesty International, among others.