IDB loan for a 48.6 MW wind farm to be developed by Uruguay's private sector
Friday, October 17th 2014 - 07:01 UTC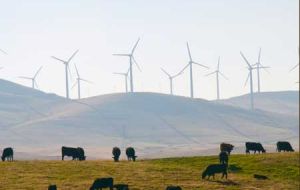 The Inter-American Development Bank (IDB) has approved a loan of up to 42.2 million dollars to help the private sector in Uruguay finance the development, construction, operation and maintenance of a 48.6 MW wind farm and its associated facilities.
The Kiyu wind farm will be located in Paraje Barrancas de San Gregorio, in the department of San José, and will generate approximately 187,900 MWh of renewable energy per year, meeting the needs of 67,753 consumers.
"The Bank continues to support the wind power sector in Uruguay as we have from the outset, with the financing of several projects that have helped the sector post considerable growth in the past few years," said Jean-Marc Aboussouan, Chief of the Infrastructure Division of the Structured and Corporate Finance Department at the IDB.
The farm will be developed by Cobra Ingeniería Uruguay SA and generate energy at a price that is competitive with other sources of energy in that country, helping diversify the energy mix, easing the energy sector's dependence on fluctuating hydrological conditions, and cutting CO2 emissions by 122,135 tons a year as fossil fuels are replaced by renewable energy.
Furthermore, the project supports the entry of a new player into the wind power sector in Uruguay and an increase in the private sector's stake in the energy market.
Currently, roughly 45% of Uruguay's power capacity corresponds to hydroelectric power, 38% to thermoelectric plants and the remaining 17% to renewable energy (12% to energy from biomass, 5% to wind power and a small fraction to solar power).
By 2017 Uruguay is forecast to reach an installed capacity of 30% in non-conventional renewable energy sources. That could substantially change its energy mix, offering environmental advantages and reducing electrical utility rates for final consumers.