Falklands' guardian HMS Clyde braves storms for routine South Georgia visit
Wednesday, November 5th 2014 - 21:09 UTC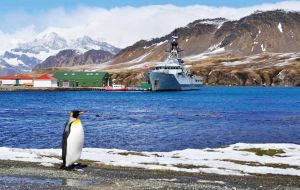 Falkland Islands guardian HMS Clyde braved spring storms to pay her first visit of the Austral summer to the wildlife paradise of South Georgia. The patrol ship crossed 850 miles of ocean to reach the remote island – part of its domain as the Royal Navy's permanent presence in the Falklands – to work with British Antarctic Survey scientists and generally fly the flag for the UK.
After arriving at King Edward Point in the island's 'capital' Grytviken, Clyde's 40 sailors were briefed on 'bio-security' – making sure they didn't harm the island's fragile environment and its many rare species when stepping ashore.
Fully aware of their responsibilities, the sailors stepped ashore to tour the abandoned whaling station, island museum and climb to the top of Mount Brown.
And then the weather gods struck with a vengeance. Although South Georgia is only as far south of the Equator as Newcastle is north of it, there's no Gulf Stream to warm things up a little.
The island sits in the middle of the 'Furious Fifties' – the latitude where the storms and swell run around the globe uninterrupted, apart from a few small islands like South Georgia.
So on the second day of their visit the ship's company awoke to find that 12 inches of snow had been dumped overnight, turning a pleasant hike to the neighboring cove of Maiviken into a trudge through snow, thankfully with an expert guide from a BAS scientist.
"It was well worth the lung-busting climb over Lewis Pass and the ominously-named Deadman's Cairn to reach this marvelously un-spoilt part of the world," said Lt Alex Davies, Clyde's marine engineer officer.
"The team made Maiviken for lunch and they sat in the middle of a penguin colony, watching sooty albatrosses wheeling overhead in their courtship flying displays."
Once back on board the sailors decided to take HMS Clyde out into Cumberland Bay – the huge natural harbor off Grytviken – to ride out an 18-hour storm with gusts of over 90 knots.
They shared the waters of the bay with a couple of fishing vessels, a small cruise ship and the South Georgia government's fishery protection vessel, Pharos, as the storm raged.
When it had passed, the ship spied a window of opportunity between the spring gales for some navigational training by heading down the east coast to scenic Drygalski Fjord, where rock and ice meet the sea in a series of jagged peaks and huge glaciers at the southernmost tip of the island.
"With the weather closing in once again and camera memory cards full to bursting, Clyde set off making best speed to the north west of South Georgia to try to escape the worst of the storms and seas for her passage home," said Lt Davies. (RN)