HMS Argyll hosts Prince Charles and Colombian president Santos in Cartagena
Wednesday, November 5th 2014 - 21:37 UTC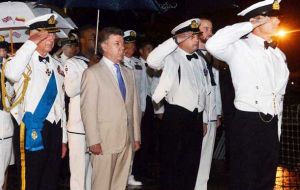 The Prince of Wales and The Duchess of Cornwall, accompanied by the President of Colombia, Juan Manuel Santos and First Lady Maria Clemencia Rodriguez, visited Royal Navy frigate HMS Argyll alongside in Cartagena de Indias, Colombia on Friday, 31 October. The party were introduced to members of the ship's company and witnessed an evening sunset ceremony.
During his speech to the assembled guests, the Commanding Officer of HMS Argyll, Commander Hammond said: "It is a great honor for me to bring HMS Argyll and my ship's company to Cartagena and further strengthen the good relationship between our countries.
"It is also an honor to be included in their Royal Highness' visit to Colombia and to welcome them and the President and First Lady onboard."
The evening, which was wet and windy throughout, came to a close with the Ceremonial Sunset. President Santos took the salute as the White Ensign was lowered.
During the visit to further develop the working relationship between the Royal Navy and the Colombian Navy, sailors from HMS Argyll visited the Colombian ship ARC Almirante Padilla.
Argyll's football team played a friendly but competitive game against a team from the Colombian host ship.
Colombian Navy sailors also visited HMS Argyll, to gain a deeper understanding of how the ship operates and to learn more about the successful Hurricane Relief and Counter Narcotics work that HMS Argyll has carried out in conjunction with the US Coast Guard to enhance regional security and deter illicit activity during her deployment.
The frigate provides support to the UK's British Overseas Territories and other islands during the hurricane season.