Short of dollars, Argentina appeals to China's Yuan to boost reserves
Wednesday, November 19th 2014 - 07:19 UTC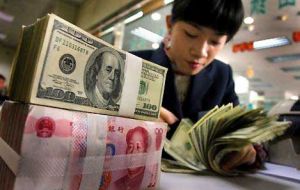 The Argentine Central Bank received this week the second part of a multi-billion dollar currency swap with China's Central Bank, worth the equivalent of 508 million dollars. The swap allowed Argentina to bolster its foreign reserves, which rose 506 million and closed at 28.785 billion dollars.
The currency swap agreement was a cornerstone of a string of deals President Cristina Fernández sealed with her Chinese counterpart Xi Jinping in Buenos Aires in July. Since the deal was signed, the Argentine government has been speeding up its activation, which was achieved on October 31 with a first tranche of 814 million.
The 506 million growth reported means the Argentine Central bank foreign-currency position has increased so far this month 674 million dollars, but in the ten and a half months, there has been a loss of 1.814bn in reserves.
The activation of the second part of the deal was reported by the Central Bank, which transferred the equivalent of 508 million in pesos to China's Central Bank in order to receive the same amount in Yuan.
"The activation of the swap shows the close relationship between both central banks and the commitment by China and Argentina to secure their integral strategic partnership, which was reaffirmed by Chinese President Xi Jinping in his visit to Argentina," the Central Bank said in a statement. "At the same time, it helps to bolster foreign currency reserves and to implement financial and exchange policies."
According to the terms of the deal, similar to a previous accord signed in 2009 but which was never implemented and expired in 2012, the Argentine Central Bank is entitled to ask for the total or partial disbursement of 70 billion Yuan (11bn dollars) in exchange for pesos to invest, or to exchange for dollars to support its reserves. The new deal also runs for three years and specifies that the loan has to be paid in 12 months with an interest rate of between six to seven percent.
The Yuan currently can be freely converted into US dollars, Euros or other currencies in Hong Kong, London or Singapore and as a result various central banks have decided to convert parts of their reserves into Yuan, including Indonesia, the United Kingdom, Brazil, Singapore, Ukraine, Australia, Turkey, the United Arab Emirates, Hong Kong, South Korea and New Zealand, among others.
Beijing has also made it a central part of its foreign policy to promote the Yuan as an international means of exchange to replace the US dollar. According to ICBC's data, this year the Yuan displaced the Swiss franc as the seventh most widely used currency in international trade, rising from 0.63% of operations to 1.39%, more than doubling its share of the pie.