Uruguay expects fifty cruise calls less this season, reveals tourism official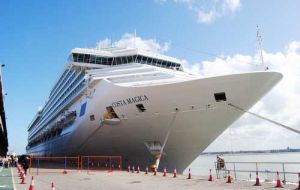 Uruguay will be receiving fifty cruise calls less this 2014/15 season, which is 26% down compared to a year ago, revealed the country's Deputy Tourism and Sports minister, Antonio Carambula during the official launching of the season. This means Montevideo will be hosting 104 calls and Punta del Este, 70, compared to the 237 between both terminals (121 and 116) in 2013/14.
"The fall can be explained because we are in a certain region, and the cruise industry this season is calling less, which means less vessels", explained Carambula, who added that the industry must coordinate efforts with other ports in the region and mentioned Brazil, Argentina and Chile.
However Carambula said that there were also good news since Costa Cruises was making Montevideo the hub for its regional cruise business meaning passengers would be boarding and disembarking in Uruguay's capital "taking advantage of the country's connectivity and the positive attitude of locals towards foreigners".
Costa has programmed twenty calls with 300 to 350 passengers exchange each time, according to Uruguayan authorities.
Nevertheless this season will be the first since the 2008/09 season that the growth tendency of cruise tourism in Uruguay drops considerably. But Carambula is confident that the overall number of visitors will not be affected to that extreme: "we have been positioned by cruise companies as a reliable tourism destination".
He added that the satisfaction surveys indicate that "cruise visitors that get to know Uruguay, in a significant percentage return be it as normal tourists, be it for business and even as a possible second residence because of the favorable conditions Uruguay offers".
Carambula went on to explain that despite this 'atypical season' Uruguayan ports are well rated by companies and visitors, and "we are working with our partners in Argentina and Brazil to keep improving the region's performance".
The deputy minister also announced that Uruguay is committed to have cruise lines extend their tours to the city of Colonia, in the west of the country and only fifty kilometers from Buenos Aires. The city was founded by the Portuguese over three centuries ago and much of the original structure and fort remains and is considered humanity heritage by UNESCO.
Mateo Elefteriu head of a Montevideo maritime agency, which represents some small exclusive cruise companies said that in effect "Montevideo is well rated, although not the same can be said of our neighbors (Argentina and Brazil). Montevideo is a good port for supplies such as beef, fresh vegetables and fruit, drinking water and, most important, paperwork is light if any of the vessels needs to fly in spares or electronics".
However he also pointed out that the port of Montevideo given current traffic "is small and authorities will only allow two cruise vessels to dock at the time. We've had up to four and they occupy much of the docking space and there have been numerous complaints from cargo vessels and their local agents".
Elefteriu also mentioned that 'some difficulties' with the launches in Punta del Este used to taking cruise visitors ashore apparently have been resolved. The Atlantic resort has no docking facilities for large vessels although abundant space for yachts in the several marinas.
This was confirmed by Deputy minister Carambula who admitted "there was some kind of 'monopoly' situation with locals in Punta del Este demanding the whole trade, but regulations have changed and if launches are not up to certain international standards, they can't operate, and the cruise vessels can use their own boats".
In the previous season (2013/14) of the 237 cruise vessel calls, 185.523 visitors landed in Montevideo and 225.884 in Punta del Este, totaling 409.367, which was 66.7% of the 613.469 arriving passengers.