Falklands' youth teams put up a great show in Chilean football tournament
Saturday, November 22nd 2014 - 20:54 UTC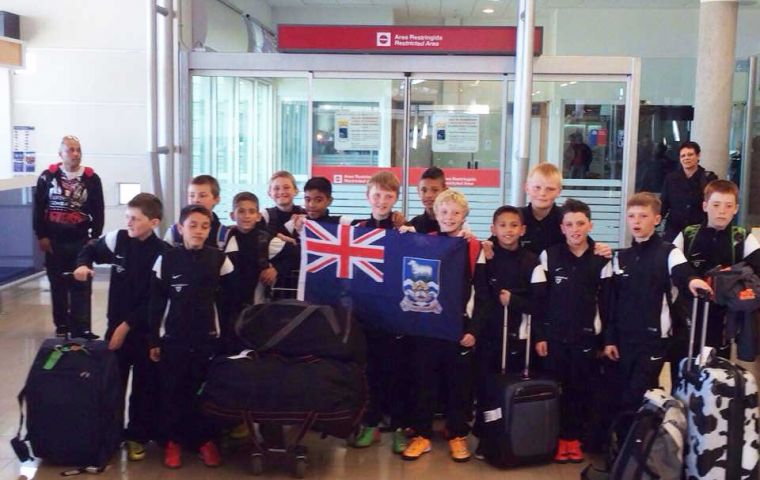 The two Falkland Islands youth teams competing in a football tournament in Punta Arenas, Chile have managed two excellent wins and also scored goals in almost every match they played proud coach Wayne Clement told Penguin News this week.
The two teams of youngsters who travelled to Chile for The South of the World Cup, had achieved a 2-0 win over Huracan and a 2-1 on penalties over the Victoria team earlier in the week.
In the first part of the tournament they were unable to win a match but there was some great team and individual performances.
Early reports explained that Falkland Islands A were leading their third match, 2-1, in the second half, but lost 3-2. The Falkland Islands B team almost drew their first match, but lost 2-1. They also lost their two other group games by small margins.
Wayne said: "We had seven goals from Ioan Roberts, three from Ethan George, two from Matt Francis and one goal each from Joseff Murphy, Vaughan McGill and Shaun East. And Mr. Adam Dickson made the tackle of the day."
Speaking of that first day Wayne told Penguin News the best part was, "the boys never ever gave up, it was a long day playing four games against obvious older and bigger opposition but they worked so hard to make it difficult for them. The fact they managed to score goals in every game they played showed how all the hard work we have been doing for months paid off."
He said there had been some, "excellent well worked passing moves to create chances and the great strikes from a few of the boys was really impressive under the circumstances. The fact that both teams only lost by one goal to the two teams from the soccer school here in Punta Arenas shows what level our boys are at."
He added: "If we had a fair crack at the teams who had stuck to the age limit I feel we would have won some games; that said the boys absolutely loved their experience on the day and were buzzing that night."
The lads were scheduled another game "so another good experience lies ahead of them," said Wayne.
He assured they had made lots of new friends and had enjoyed their excursions: "This trip was primarily based around football however we wanted to give the boys an experience hopefully they will never forget."