Argentina stats: IMF sees advances, but the issue is a heated debate in Congress
Saturday, December 6th 2014 - 04:44 UTC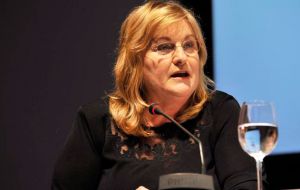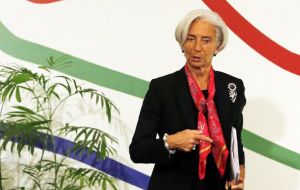 The International Monetary Fund has expressed conformity with the achievements made by the Argentine government regarding the updating of the country's statistics, and hoped to finish its evaluation in February, Director Christine Lagarde announced during a press conference in Santiago de Chile.
However the stats reliability debate persists in Argentina with a heated debated in Congress regarding a monthly reading released by members of the opposition and which government insists must come to an end because it is 'irresponsible'.
"Progress has been made in the measurements," Lagarde said referring to the persisting gap between the official inflation index and the numbers published by private consulting firms.
The IMF head announced there will be a meeting between Argentine technicians and authorities and the international institution on December 15 to "keep on working."
The IMF had applied a sanction to Argentina due to the "lack of credibility" shown in the INDEC statistics bureau's inflation and gross domestic product indexes.
The Argentine government then created a new national inflation index, and modified the GDP measurement, cutting back its growth forecast from 5% in 2014 to 3%. It will now present new modifications in February, and the IMF will have 45 days from that date to evaluate the new statistics.
However Argentine stats debate remains controversial with a lawmaker from the ruling Victory Front making a formal complaint and demanding that the 'irresponsible' Congressional (inflation) index, which is released every month by opposition members should cease.
The index released by the opposition members from the Freedom of Expression committee consistently shows percentages much higher than those from the official stats office Indec.
"A miniscule group of members of Congress can't attribute themselves the full house representation and release indexes without revealing the methodology employed to arrive to such percentages. Stop calling it the 'Congressional index'", said government lawmaker María del Carmen Bianchi.
The index was born as an initiative from opposition lawmakers when the Cristina Fernandez administration threatened private consultants with fines and even jail, if they released their inflation estimates. The Freedom of expression committee then decided to release an average of the private censored estimates.
And the gap estimates remain significant: last month the Congressional index estimated annual inflation at 41%, while the official Indec estimate is 24%.
Patricia Bullrich, one of the opposition lawmakers warned that "we will continue to release the index; in no way are we going to tolerate censorship on members of congress. Besides the congress index has become the most reliable index on inflation in Argentina".