Chile consulted Argentina before allowing HMS Dragon to dock in Valparaiso
Saturday, December 6th 2014 - 04:15 UTC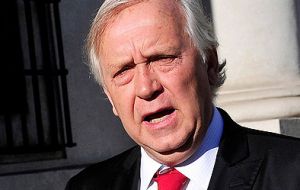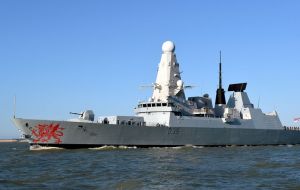 Chilean foreign minister Jorge Burgos revealed this week that the presence of HMS Dragon in Valparaiso was authorized after having consulted with Argentina, and underlined that Chile strictly abides with what was agreed regarding the passage of British vessels through Chilean waters.
"It was an issue, the presence of the vessel, duly programmed and through the Ministry of Defense, previous to contacts with the Foreign ministry, and duly discussed with Argentine authorities, with whom we not only have a standing relation but excellent relations", indicated the Chilean minister when asked about the Argentine media questioning of HMS Dragon in Chile.

"In consequence that's what it is and the presence of the vessel does not renege on any of the issues which have been discussed in previous years regarding the presence of British vessels in Chilean seas".
The Argentine media on discovering that HMS Dragon has been in Chile since late November and from this week in Valparaíso, attending the Chilean Navy's Expo-Naval 2014, claimed that it was in violation of the 2010 regional agreement not to provide support for British vessels or bases in the area.
The Type 45 destroyer presence turned into a hot issue for the Buenos Aires media following on reports, quoting unidentified defense sources, that Chile and Brazil were providing the Royal Navy with logistics support in the high seas, thus avoiding the ban which bars them from calling into South American ports.
The claims were further supported by a book from former Andrés Cisneros, a onetime Argentine deputy foreign minister, second to Guido Di Tella, who in a academic-journalistic paper on post-Kirchner period foreign policy, also insisted on the alleged involvement of regional navies with British vessels.
Brazil admitted that the Royal Navy has been helping in counter plans to protect the country's vast offshore oil reserves and operations, which "in no way trespasses agreements regarding logistic support to RN vessels or bases".
Likewise have been Chile's Defense minister arguments.
However the Argentine media based on foreign and defense sources insist that support in the way of joint training operations, port assistance, bunkering or repairs in the high seas or calls camouflaged as courtesy visits, continue.
But Eduardo Santos, an international analyst from Santiago denies claims that the accord reached with Argentina regarding British vessels is not being complied, and points out HMS Dragon motives in Chile are not contemplated in the understanding.
"The UK to keep an eye on the Falklands following the conflict with Argentina, takes its precautions and regularly sends men-o-war to patrol those waters", said Santos, who added that yes in those trips they did cross Chilean waters and received logistic support.
But because of "Argentine political pressure, Chile had to end with that operation and Chile since has fully and rigorously complied with not giving any logistics support to vessels that come from, or travel to Malvinas".

"HMS Dragon came to Chile for different motives: one to participate in the commemoration of the centenary of the Battle of Coronel, and secondly to attend the Chilean navy's Expo-Naval 2014.
"The vessel did not come looking for logistic support as before; the accord on British vessels in this case does not apply" concluded Santos.