Evo Morales' estate 12.67 percent higher than in 2012
Tuesday, December 23rd 2014 - 04:36 UTC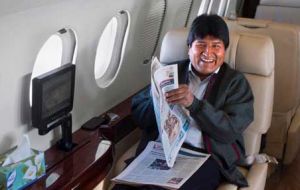 President's affidavit before the State's General Comptrollership raises questions on how he amassed 437,787 US dollars. Opposition says he should have turned poorer, living on a public servant salary.
The current estate of President Evo Morales totals 3,047,848 bolivians (437,787 US dollars), according to his affidavit submitted Monday to the State's General Comptrollership.
"President Morales' liquid assets rose 12.67 percent in two years," the local Pagina Siete newspaper reported, "from 2.705.058 bolivians in 2012."
Meanwhile, Vicepresident Alvaro Garcia Linera, has not filed his application. Morales and Garcia Linera rule Bolivia since January 22, 2006, and were reelected on October 12 for the 2015-2020 term.
It was also made public that the estate of Communications Minister Amanda Davila and Foreign Minister David Choquehuanca exceed 300,000 US dllars each. In 2006 Choquehuanca had an estate of 551,864 bolivians (79.290 US dollars) and this year he admitted to having 2,287,232 bolivians (328,625 US dollars). Choquehuanca and Economy Minister Luis Arce have held their offices since 2006 and are among the longest serving non-elected officials of the Morales administration.
Opposition leader Fabian Yacsik said that "a politician who increases his estate should definitely be under the Comptrollership's magnifying glass." He explained that "the logical thing to happen would be to go poorer."
"You're supposed to live solely of your salary and the salary of a public servant isn't very high, even more so when the President has cut down his own wage by half during a while," Yacsik pointed out.