CFK breaks ankle after domestic accident in Santa Cruz
Saturday, December 27th 2014 - 08:38 UTC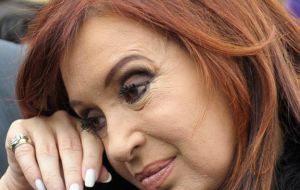 Argentine President Cristina Fernandez de Kirchner airlifted to Buenos Aires clinic late Friday. Presidential Medical Unit confirms it's a fracture, not a sprain, as it had been assumed at first .
President Cristina Fernandez de Kirchner suffered a fractured left ankle Friday in a domestic accident at her Rio Gallegos residence, for which she had to be airlifted to Buenos Aires late Friday, the Presidential Medical Unit confirmed in a statement.
The president had been taken in the afternoon to the Regional Hospital of Rio Gallegos, which she left in a wheelchair. It was reported that the MRI and other medical examinations that needed to be done were beyond the facility's technical capabilities and therefore it was decided to airlift the president to the Sanatorio Otamendi in Buenos Aires, where she had already been treated earlier this year of other, unrelated health problems.
The Tango 01 presidential airplane landed at Aeroparque Jorge Newbery in Buenos Aires at about 11 pm on Friday. The president was rushed in a wheelchair onto a car and from there to the clinic.
At about 1 am Saturday, the Presidential Medical Unit confirmed that it was "a non-displaced bimaleolear fracture" of her left ankle following a blow. The president was prescribed "immobilization, symptomatic treatment and evolutionary control," the statement said.