Top Gear episode filmed in Argentina to be aired Saturday
Saturday, December 27th 2014 - 08:22 UTC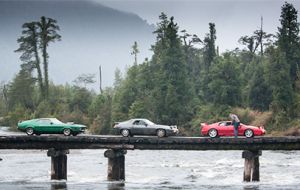 When filming in Patagonia, the BBC crew and host Jeremy Clarkson were forced to leave the country after locals saw their cars' license plates, which were deemed 'provocative'.
The controversial episode of BBC's Top Gear TV show filmed in Argentina, where vehicles displayed license plates in reference to the 1982 Falkland/Malvinas war is to be aired Saturday by BBC2 and BBC2 HD. Part one will kick off on Saturday 27 December at 8.30pm, with part two showing on Sunday 28 December at 8pm.
The registration "H982 FKL" was interpreted as a reference to the year and place of the war, during which some 900 people were killed. Although producers claimed they had no intention of offending anyone, the incident sparked a diplomatic strife over an issue that continues to hamper the ties between the two countries.
Argentina's ambassador to London Alicia Castro filed a formal complaint in October before the BBC, accusing Top Gear host Jeremy Clarkson of provoking and insulting behavior while filming the episode, during which time he recalled memories of the war and made insulting statements against the Government of Argentina and its people.
The British network has explained that the shooting crew was forced to flee the country when a group of locals reacted with violence at the sight of the plates.
Clarkson himself said that hundreds of people threw stones and bricks at his car and said the incident was "the most terrible thing" in which he had been involved in his entire life and claimed he was expelled from the country for political reasons.
Top Gear has been entered into the Guinness Book of Records as the TV show with the most viewers worldwide, some of its episodes having been aired in over 200 countries and territories.
Clarkson, 54, has been reprimanded in the past by the BBC for using racist words and was the center of controversy on many occasions since he is on the show.