Argentine Senate passes China deals, Parlasur elections bills
Tuesday, December 30th 2014 - 07:44 UTC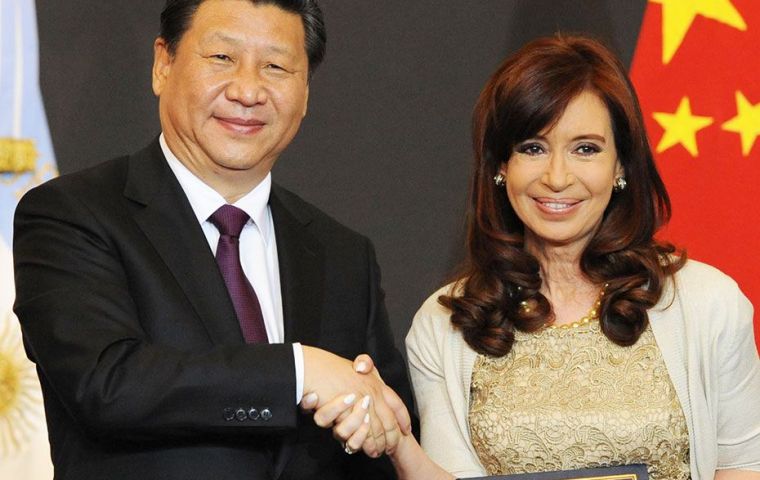 Victory Front pushes forward with two projects aimed at reshaping the scenario in view of next year's presidential campaign.
Argentina's Senate has approved three economic and investment cooperation pacts with China, by 36 votes to 13 , sending the bill to the Lower House despite fierce criticism from the opposition, which questioned the financial advantages the sian nation would attain from the agreement.
Victory Front senators carried the proposals with 36 votes in favour, against 13 legislators who cast their ballot against the bill.
The main accord, which sets a regulatory framework for Chinese investments in Argentina, was signed on July 18 by Presidents Cristina Fernandez and Xi Jinping. The agreements also cover the granting of contracts for infrastructure works, as well as financing from Chinese banks and the simplification of work and residence permits for citizens.
"[The agreement] is geared towards a greater cooperation between Chinese and Argentine businesses with the goal of maintaining growth in both nations," the Foreign Relations committee chief Ruperto Godoy told the Upper House.
"It is designed to enable the incorporation of greater added value and export capacity. It means entering the massive supply chain China has right now," he added.
Radical senator Mario Cimadevilla, however, asked whether "we are now facing a new style of imperialism for the 21st century," warning that "we have not seen such unfavourable conditions for the country since the Roca-Runciman pact."
The Senate also passed into law a bill setting elections to the Mercosur legislative body (Parlasur) on the same date as 2015's national elections, which had previously received approval from the Lower House. In a last-minute meeting of the Upper House, the governing Victory Front saw the Parlasur elections passed with a total of 37 votes, against 12 senators who were against the proposal. The government had been determined to pass the measure before the start of 2015, the year in which the next presidential and national elections are to be held.
The bill had been passed by the Lower House on December 16 and is now ready to be signed into law by the Executive.