Argentina's comprehensive strategic (and vital) association with China
Saturday, January 10th 2015 - 06:44 UTC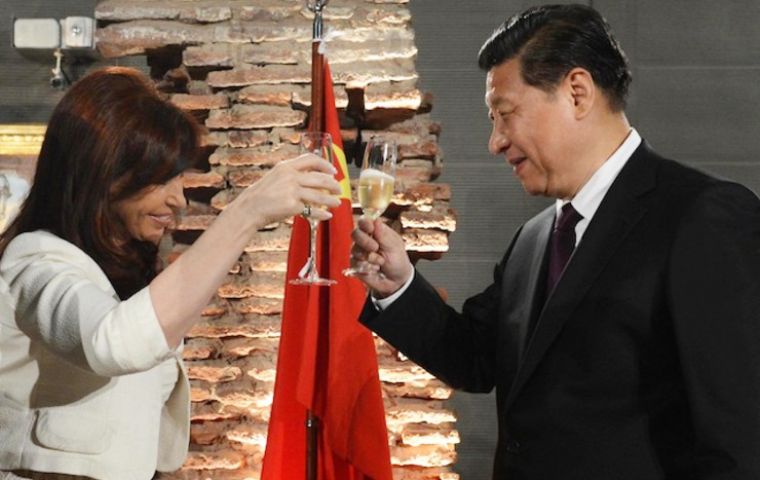 Argentina and China entered a new phase of their relationship in July last year after upgrading it to a "comprehensive strategic association" and signing a battery of agreements, which include a 4.7 billion investment in hydroelectric dams, 2.09 billion in the renovation of the rail system and an 11 billion currency swap.
The currency swap has brought relief to Argentina's reserves to the tune of 2.3 billion in three disbursements. The terms of the swap state that the Central Bank is entitled to ask for the total or partial disbursement of 70 billion yuan (11 billion), in a loan which has to be paid back in 12 months with an interest rate of between six and seven percent. In exchange, China is also loaned Argentine pesos, which can be used in bilateral foreign trade or exchanged for other currencies.
The investment and infrastructure pacts signed last July received Argentine Senate approval in the final session of 2014, with some observers questioning the terms of the agreements. Uproar caused by a clause in the framework agreement would have granted China the authority to use its own labor force for infrastructure contracts won by Chinese companies obliged the ruling Victory Front (FpV) to include an amendment that specifies that Argentine workers will be hired.
As the Senate can only accept or reject deals between Argentina and another sovereign nation, the fate of that ratification has yet to be determined.
The terms of the deal also specify that contracts involving Chinese companies and Chinese financing will be awarded directly, without due call for tenders. The Lower House is expected to begin its review once Congress reopens on March 1.
Buenos Aires and Beijing will now enter a new "comprehensive strategic association" ten years after the launch of a "strategic association" that has been a boon to trade and investment. The upgraded diplomatic relations — previously restricted only to Brazil within the region — open the door to a further deepening of the existing ties.
"This is a foundational day for the relationship between our two countries," said President Cristina Fernández at Government House in July 2014.
Her counterpart, Chinese President Xi Jinping said that he viewed Argentina as "partner for development" and that a "broad consensus" had been established on political and economic matters during yesterday's talks.
According to the UN data the top three Argentine exports to Beijing are soybeans (whole or broken), crude petroleum oils, soybean oils and derivatives. These three categories account for 81% of total exports, pointing to a lack of diversity in the products being sold to China.
Furthermore, according to figures published by the China Observatory that sits within the CERA exporters chamber, imports (11.31 billion) in 2013 more than doubled exports (5.51 billion), leading to a 5.8-billion deficit.
In return, China has invested billions of dollars in the region, pouring money in oil and gas extraction in Argentina, Venezuela, Brazil, Colombia, Ecuador and Peru.
The ECLAC reports that foreign direct investment (FDI) from China to Argentina peaked in 2010 at 3.1 billion, 2.45 billion in 2011 and dropping to 600 million and 120 million in 2012 and 2013. However, FDI from publicly-held Chinese business is notoriously difficult to track as it is often directed through third countries and thus figures should be taken with a grain of salt.