Cristina Fernandez to Beijing in February; more financial support from China
Tuesday, January 13th 2015 - 08:36 UTC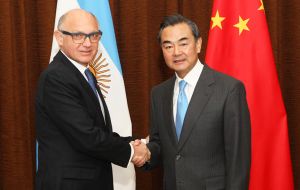 Argentine President Cristina Fernandez will be travelling to Beijing next month, reciprocating a visit from her Chinese counterpart Xi Jinping last July, it was officially announced by chief of staff Jorge Capitanich. The meeting was anticipated last Friday in a meeting of the two countries foreign ministers on the sidelines of the CELAC/China ministerial forum held last week in Beijing.
China which is expanding its business and trade in Latin America, last week at the forum announced plans for 250bn dollars in investments in the region over the next decade. The world's second largest economy already has a total of 23 billion invested in Argentina mostly in energy, mining and the financial sector with an 11bn dollars currency swap agreement at central banks level.
This has enabled Argentina to address a serious shortage of hard currency that has been limiting imports and triggered a raft of claims against the Cristina Fernandez administration for allegedly appealing to protectionist practices.
In effect, Bloomberg announced on Monday that Argentina's central bank will soon receive another 400 million dollars as part of the ongoing currency swap which has already provided an estimated 2.3bn. These swaps have allowed the Argentine government to stabilize falling international reserves following a technical default in July, and helped the central bank to end 2014 with over 30bn after falling to an eight-year low of 26.7bn last April.
President Cristina Fernández is thus now confirmed to embark on an official visit to China on February 4 and 5, where she will meet with President Xi and continue with the process of deepening bilateral ties. Xi visited Buenos Aires in July of 2014. The Argentine president is suffering from a strained ankle, which forced her to cancel a trip to the Vatican.
Argentina and China entered a new phase of their relationship in July last year after upgrading it to a "comprehensive strategic association" and signing a battery of agreements, including a 2.09 billion renovation of the Belgrano Cargas freight rail system, the 11-billion currency swap and pledges to fund two hydroelectric dams in Patagonia.
Cabinet Chief Capitanich added that China will be seeking to expand its purchases of strategic assets in the energy, mining, minerals, meat products and grains sectors.
Capitanich also announced a strategy of disbursement of investments in the next six years that will include the 4.7 billion to be spent on the Jorge Cepernic and Néstor Kirchner hydroelectric dams in Santa Cruz province.
"The works will amount to an increase in the energy supply, which is a multiplier effect for development of the region, province and country, and obviously a significant influx of foreign currency for the structural development of the Argentine Republic" the Cabinet chief added. The government estimates that the hydroelectric dams and other energy projects will be increase the electricity supply by 31 to 41%. Currently Argentina is a net importer of energy, putting pressure on Central Bank reserves.