Nisman's death: "no sign of third-party involved" but it was classified as "suspicious"
Tuesday, January 20th 2015 - 04:35 UTC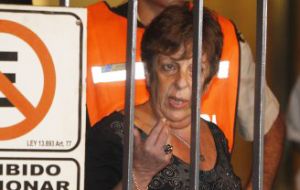 Argentine prosecutor Viviana Fein confirmed that there was no sign of a third-party being involved in the death of AMIA investigator Alberto Nisman, who was found early Monday morning with a gunshot to the head. However the official refused to rule out the possibility that the deceased was obliged to take his own life by some as yet unknown factor.
In a statement, the official in charge of the investigation into Nisman's passing affirmed that the head of the judicial morgue had told her that "there was no intervention from third parties in the death."
"The case is classified as suspicious death. Nobody has said that this is a suicide or murder: it is a suspicious death. Until all the evidence has been gathered, all available leads will be followed.
Fein underlined that "we will investigate is there was any type of pressure or inciting through threats, be it through calls or text messages."
"We could talk about suicide, the body was not beaten nor mistreated, I do not rule out instigation [to suicide]. We are not saying the case is solved," she repeated.
With regards to the weapon allegedly used in the shooting, a .22 caliber pistol, Fein indicated that the gun did not belong to Nisman and appeared to have been lent to him by a colleague in the prosecutor's office.
Judicial sources said that the employee's testimony confirmed that Nisman had requested the weapon, for "questions of safety."
"It matches with the entry records of the building where the prosecutor lived," Fein said, referring to the individual who early on Sunday brought the gun to Nisman.
Most probably on Tuesday prosecutor Fein is expected to receive results from the microscopic search carried out electronically on samples taken from Nisman's hands. This will determine whether or not gunpowder residues were present on the prosecutor's person.
The autopsy on the body of the AMIA special prosecutor earlier confirmed that he died from a gunshot to the head, two centimeters below the right ear, sources from the investigation reported.
The preliminary report delivered by the forensic investigators to prosecutor Viviana Fein stated that the body has a bullet hole on the right parietal with loss of encephalic mass.
The bullet was removed from Nisman's head by forensic surgeons. Its analysis confirmed that it belonged to the .22 caliber Bersa gun that was found next to the body.