Opposition demands protection of Nisman's records; protest marches in Argentine cities
Tuesday, January 20th 2015 - 05:10 UTC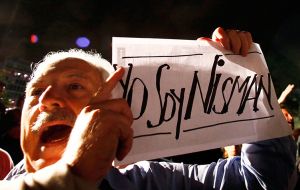 A group of Argentine opposition senators and lawmakers went ahead on Monday with an informal meeting in Congress which prosecutor Alberto Nisman was expected to address and called for the official's alleged evidence relating to the AMIA case to be protected from interference.
"This meeting was called so that prosecutor Alberto Nisman could come to speak. Last night we all found out about his death. We are all shaken up, anxious for the things happening in our country," Penal Legislation Committee chairwoman Patricia Bullrich said.
"This is a case that has been going on for many years, just like the AMIA case, the collateral causes and those things that should have taken place today.
"We are not able to make sure the prosecutor is replaced, and that others who worked with him come to talk. We have decided to raise the meeting and read a document," the legislator added, before calling for a minute's silence in Nisman's honor.
The statement read out by Bullrich was signed by PRO, Union for Everybody, Federal Peronism, the Workers' Party and CC-ARI, amongst other opposition blocs.
The text calls on the Executive to "protect" the evidence Nisman had in his possession before his death, and name a "suitable and independent" replacement to continue with the investigations.
Meanwhile on Monday evening hundreds of people convened in the iconic Plaza de Mayo in Buenos Aires' downtown area to condemn the death of AMIA lead investigator Alberto Nisman, in a demonstration that was marked by sporadic clashes with police.
People carried banners' reading "I'm Nisman" and Argentine flags, and while the majority of protesters chanted peacefully, some knocked down a barrier erected around Government House by security forces, provoking some violent incidents.
The protest was called for through social media websites, shortly after news broke that the prosecutor had been found dead in his Puerto Madero apartment.
Other demonstrations, involving thousands, also took place across Argentina, including outside President Cristina Fernández official residence in Olivos, Buenos Aires province.