Argentina's Judiciary releases Nisman's complete prosecution charges against Cristina Fernandez
Wednesday, January 21st 2015 - 07:29 UTC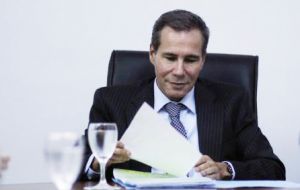 Argentina's judiciary released late Tuesday the complete version of special prosecutor Alberto Nisman's charges against President Cristina Fernandez, foreign minister Hector Timerman and other close officials, accusing them of 'conspiring a cover up of Iran's' alleged involvement in the bombing of the Jewish institution in Buenos Aires back in 1994, which killed 85 and injured 300.
The 300 pages presentation made Wednesday a week ago by the AMIA special prosecutor who had been working on the case for over ten years, is allegedly supported by hundreds of hours of telephone recordings between the different officials, judges, spies, intelligence officers who allegedly participated in the plot meant basically to help Argentina have access to Iranian oil.
The Iranian oil according to Nisman's arguments, was desperately needed by Argentina short of power and even more of dollars, and was intended to be exchanged for oilseeds, grains and beef.
Teheran demanded that its officials and diplomats pointed out by the Argentine justice system (and international intelligence agencies) as directly masterminding the bloody attack on the Jewish organization through Hezbollah, be disassociated from the episode and down listed from Interpol's international arrest request.
To this effect, according to Nisman, the administration of Cristina Fernandez organized a parallel 'negotiation' channel involving some of her most trusted officials and who sympathized with Teheran, and Iranian counterparts.
Thus the alleged 2013 Understanding Memorandum agreed with Iran was the 'culmination' of this several years underground negotiation process, and not the starting point to help solve the AMIA case, as alleged by Timerman and the Cristina Fernandez administration.
However Nisman apparently points out that there is no direct tape or written evidence of president Cristina Fernandez participation but all Argentines involved in the plot always made reference to 'the chief' (feminine in Spanish), and there 'was no way such parallel diplomacy could take place without instructions and blessings from the Executive,