A third passage to Nisman's apartment and a locksmith who testified the service entrance was not locked
Thursday, January 22nd 2015 - 07:23 UTC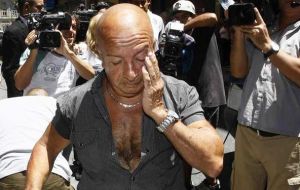 Investigators found a footprint and a fingerprint in a third –recently discovered- access to prosecutor Alberto Nisman's apartment, which became the latest clues in the investigation of the death of the AMIA special prosecutor late on Sunday.
They were found on a hallway that links Nisman's apartment to another unit that belongs to a foreign man. The corridor is often used by the technicians from the building's air conditioning system.
The investigative team is now trying to determine how anyone could have accessed that hallway and if a person could have had reached the bathroom where Nisman's body was found from there.
The corridor is the apartment's third access, after the main entrance and the service entrance.
Likewise in a surprising statement the locksmith that worked at Nisman's apartment on the night of his death gave testimony to State Prosecutor Viviana Fein and explained the circumstances in which he was involved.
The man identified as Walter, said he was called by the security guards of the building and left soon after opening the door for Nisman's mother.
Walter said that he was called around 10 pm on Sunday and that he arrived at the Le Parc tower about half an hour later. He said that since the main entrance of the apartment was locked with a keyless system, they decided to go through the service door.
The locksmith explained that this second door was locked but without turning the key, which "was still in the lock." He said that he pushed the key until it fell off the lock and then used another key, from Nisman's mother, to finally open the door.
"I turned her key and opened it. I picked up my tools and ten minutes later I left. I did not enter (the apartment)," Walter said to reporters after speaking to prosecutor Fein.
He added that he saw Nisman's mother along with other two or three men, and that he did not meet the controversial Security Secretary Sergio Berni at the site.