US government and Congress call for a "complete and impartial" investigation into the death of Nisman
Saturday, January 24th 2015 - 06:26 UTC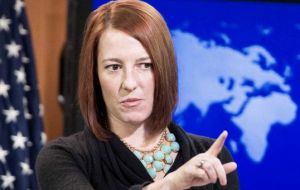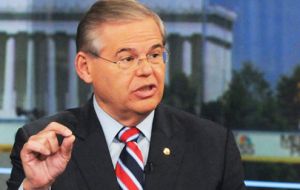 The US government has called for a "complete and impartial" investigation on the death of AMIA special prosecutor Alberto Nisman, who had accused President Cristina Fernandez of covering up the 1994 bombing of the Jewish community centre.
"Judicial authorities are investigating his death and we call for a complete and impartial investigation," US State Department spokeswoman Jen Psaki said to reporters.
Psaki refused to comment on Nisman's allegations against Cristina Fernandez or to speculate on the cause of the prosecutor's death. "There is an ongoing investigation and we will make no comments," she said.
"The United States and the international community continue to work with the Argentine government, as well as victims of the AMIA bombing and their families, to seek justice," Psaki added.
The US official lamented Nisman's death. She said that he "courageously devoted much of his professional life" to going after those responsible for the attack on AMIA Jewish centre in Buenos Aires which killed 85 and left 300 injured.
The US Senate also made a formal request to the US State Department asking it to demand from Argentina "a clear investigation" of all events surrounding the death of Nisman and guarantees that all the work the deceased special prosecutor was doing will continue.
The request was made by Democrat Senator Robert Menendez who is his party's spokesperson in the Foreign affairs committee, of which he was president until it feel into hands of the Republicans.
This is the first official request from the US Senate. So far all demands that investigation of Nisman's death and that his task must be continued had been presented by the Lower House.
"I was shocked at the tragic circumstances surrounding the death of Mr. Nisman", said Menendez adding that with President Cristina Fernandez announcement that the death was not suicide, "more disturbing questions have arisen".