Argentine Jewish associations criticize Cristina Fernandez' speech as 'intentionally confusing'
Wednesday, January 28th 2015 - 07:00 UTC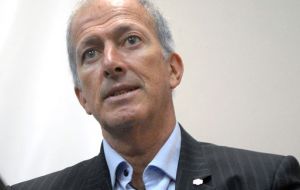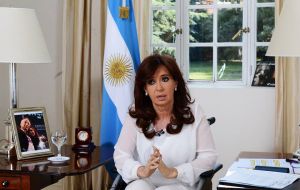 The Secretary General of DAIA Delegation of Argentine-Israeli Associations, Jorge Knoblovits, voiced his criticism against Monday's speech by Argentine president Cristina Fernández and reiterated DAIA's call to abrogate the Memorandum of Understanding signed with Iran in 2013.
Knoblovits told the Jewish News Agency (AJN) that Ms. Fernandez speech, in which she announced the dissolution of the Intelligence Secretariat (SI, ex SIDE), was "a reductionist analysis, inappropriate in this situation." He accused the president of adding confusion by "not focusing where she should."
He rejected the president's message as "intentionally confusing" and lamented her decision to mention the Jewish institutions while speaking of the Memorandum. "We are not demons. The speech was very sad," he stated.
Ms. Fernandez said n Monday night that the government was the target of a series of attacks from the SIDE after the signing of the deal with Tehran, in 2013, and denounced the existence of "several, ridiculous complaints" against herself from judges, journalists, prosecutors.
However, the DAIA head pointed out that the president "failed to tell the whole truth." Knoblovits said that AMIA and DAIA have proposed a bill for a trial in absence against the Iranian citizens suspected of planning the attack against the Jewish Community centre in 1994, and questioned the president's decision to ignore this bill and to present the one for the dissolution of the SI instead.
"The president proposes a bill to dissolve the Secretariat that reported to this government for 11 years, and another one of the same political colors before," Knoblovits said. "She now proposes this bill because the members of the Secretariat no longer works for her," he added.
However despite the criticism some members of the 18J Family, Survivors and Friends of the Victims of the AMIA Attack Association, led by Sergio Burstein, visited the Argentine president at her official residence in Olivos.
"We talked about the case itself, about the fear and anxiety over what will happen with the main case, and of course about the death of prosecutor Alberto Nisman. We asked her to redouble her efforts and to not halt the investigation, so we can find the truth", Burstein explained after the audience.
"We need to know what happened with Nisman," the representative repeated, while adding that during the meeting in Olivos "the SIDE was not discussed," referring to the planned dissolution of the intelligence agency.